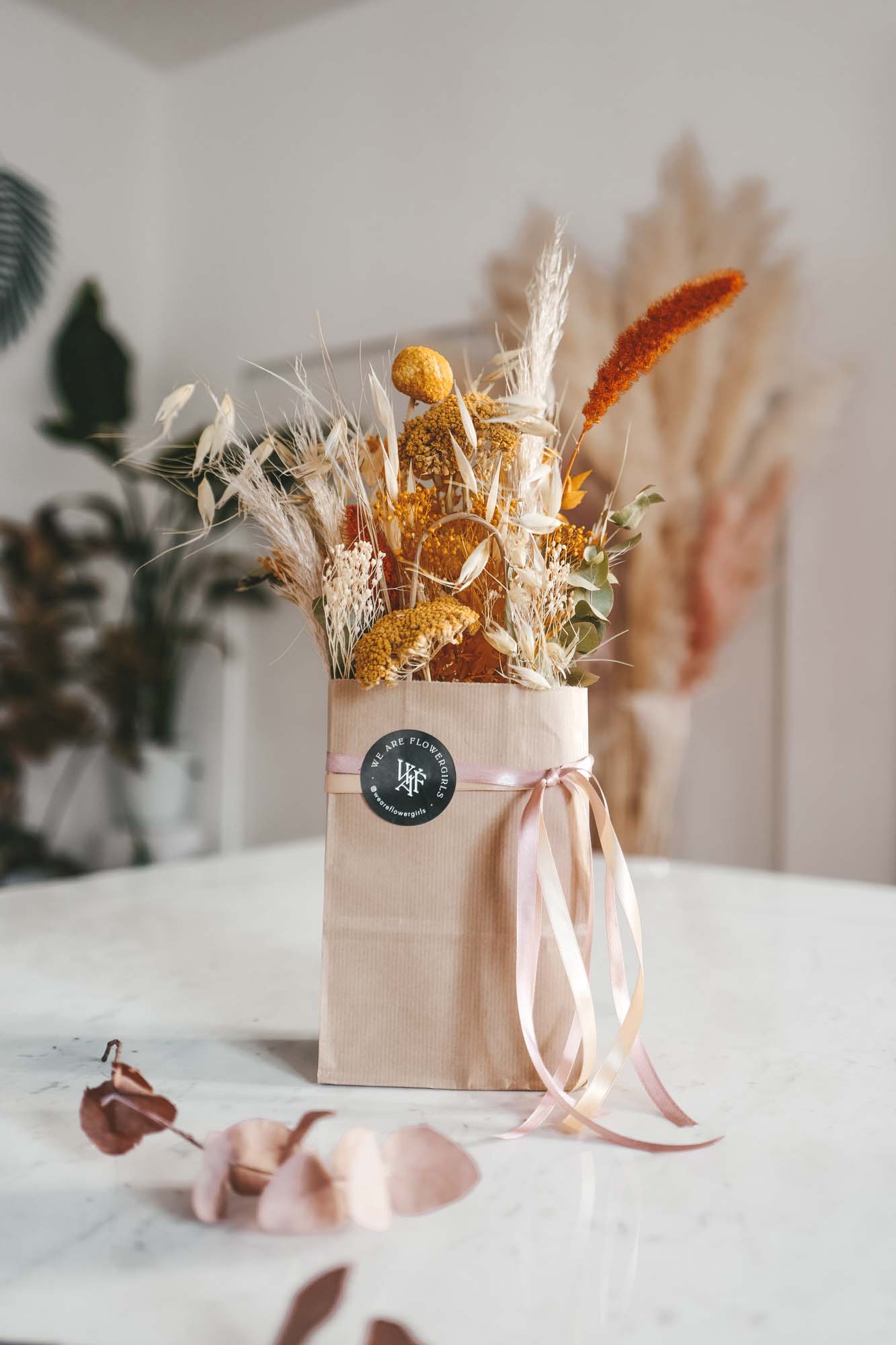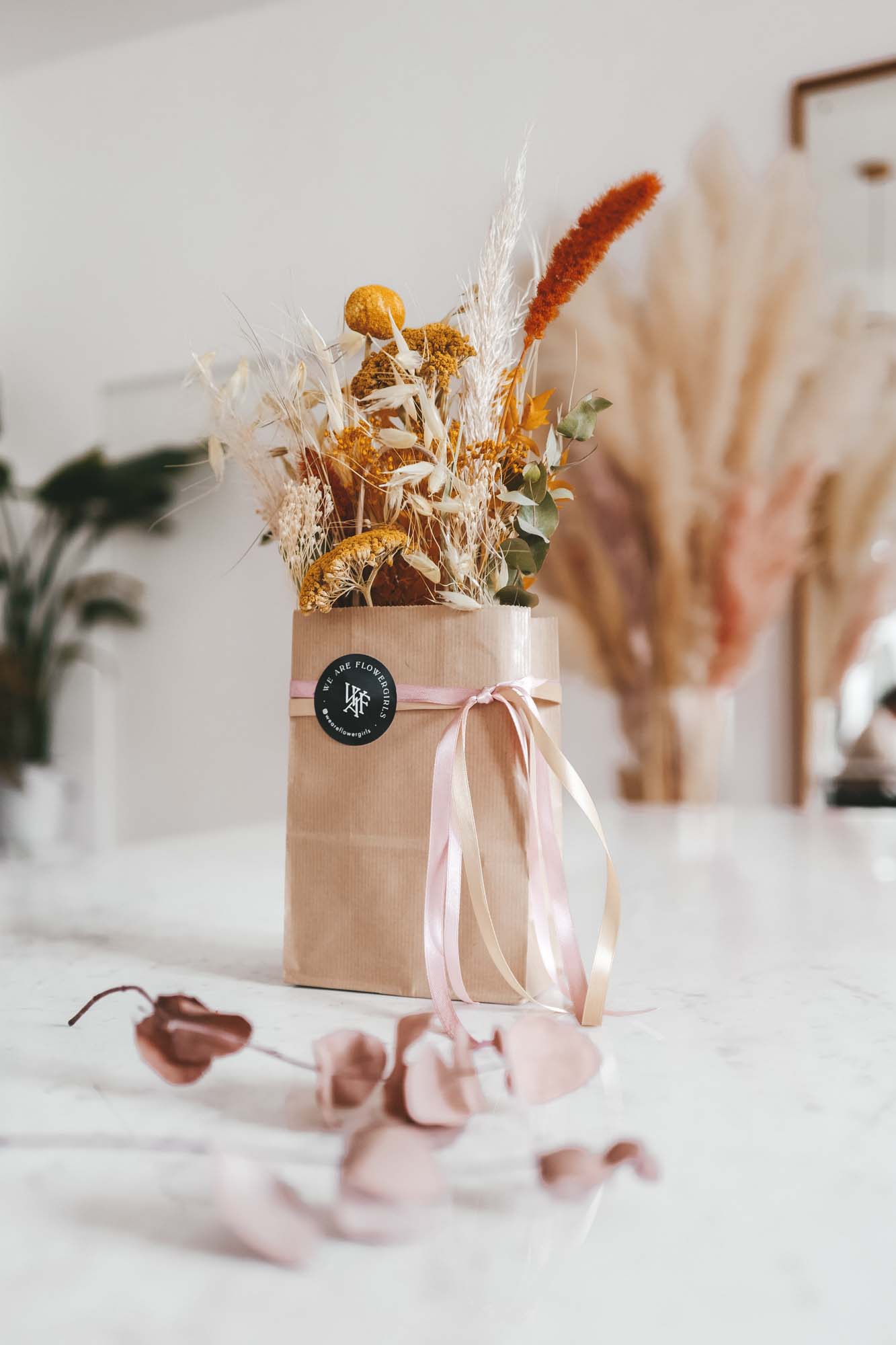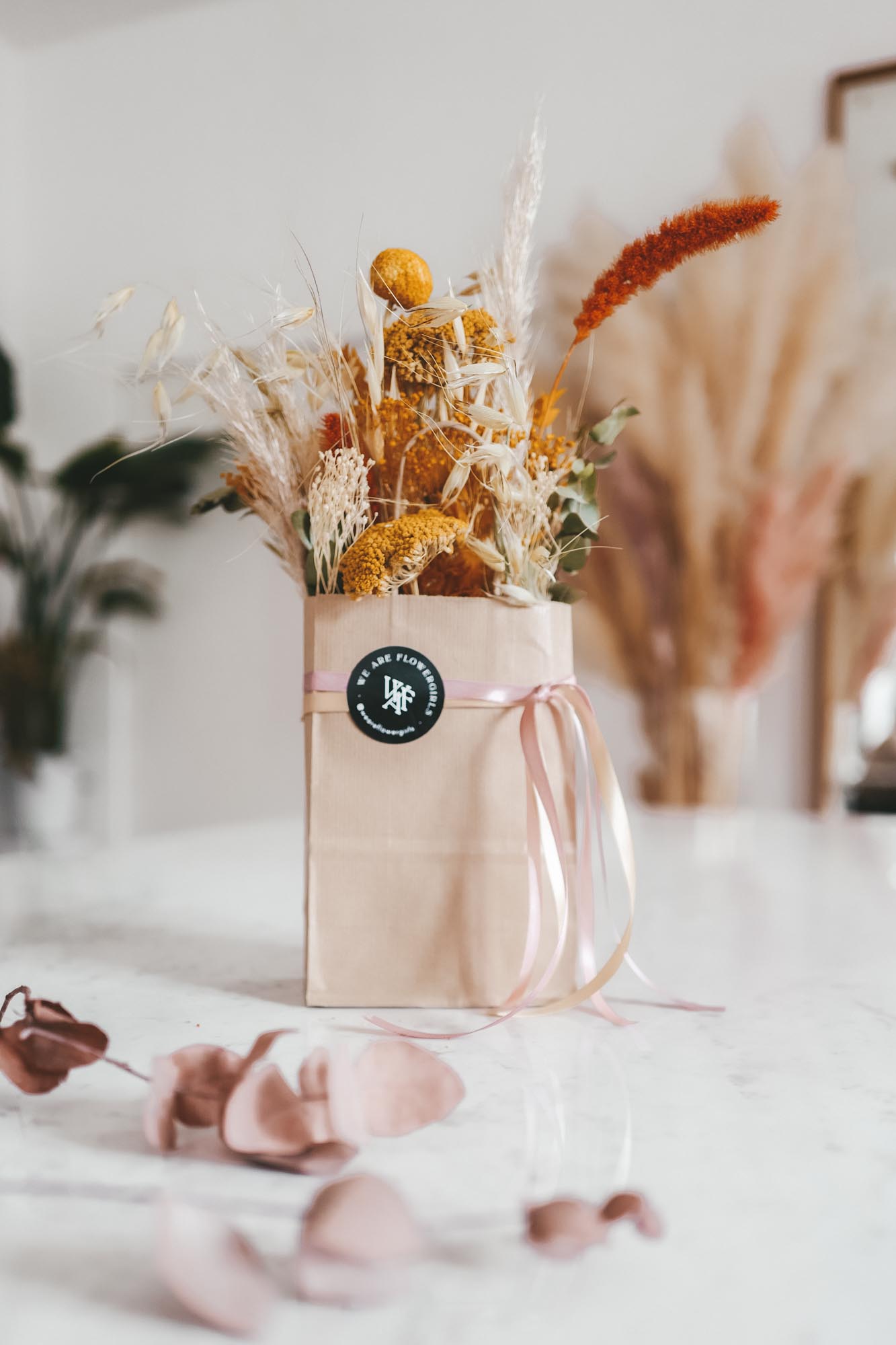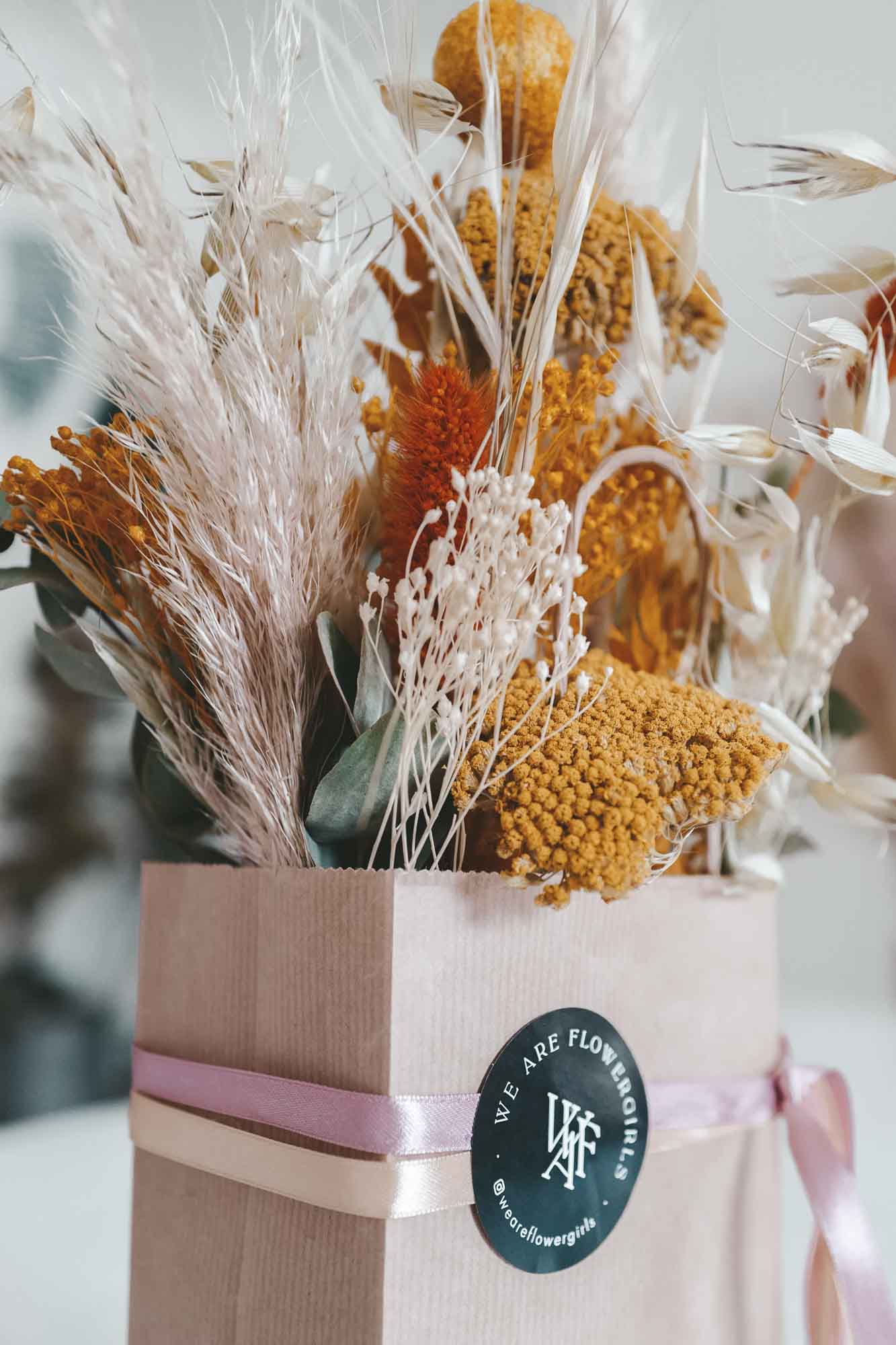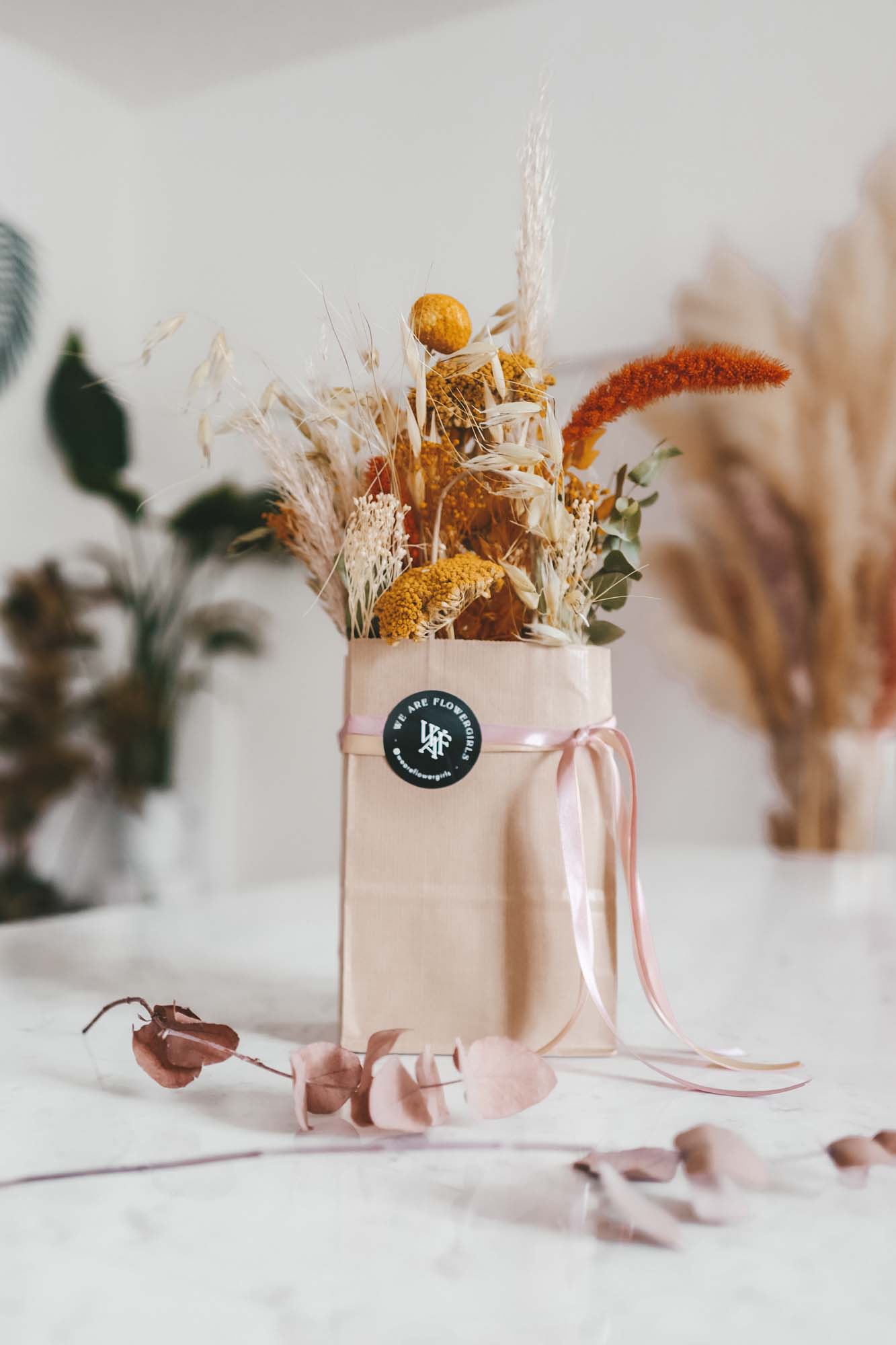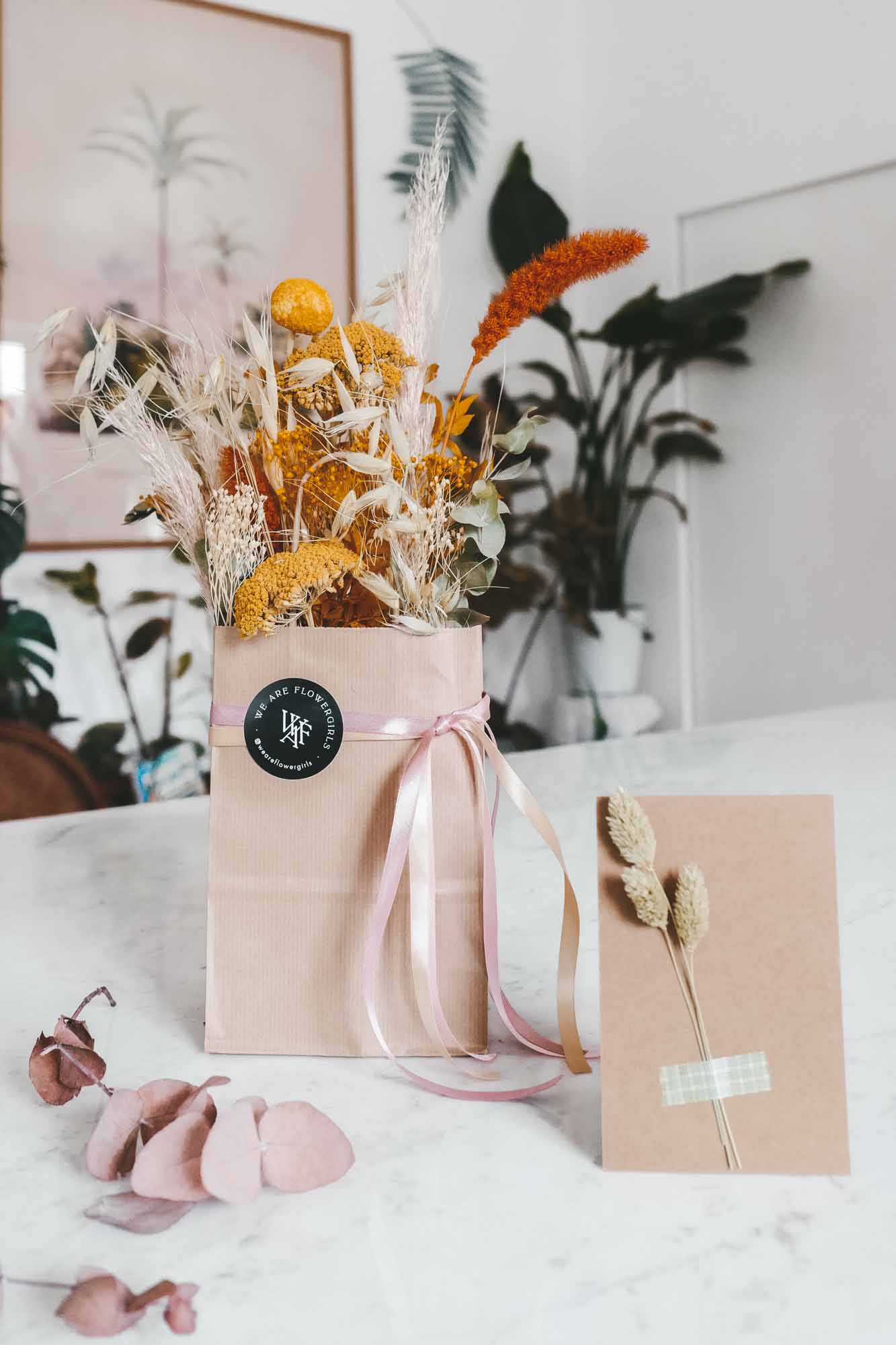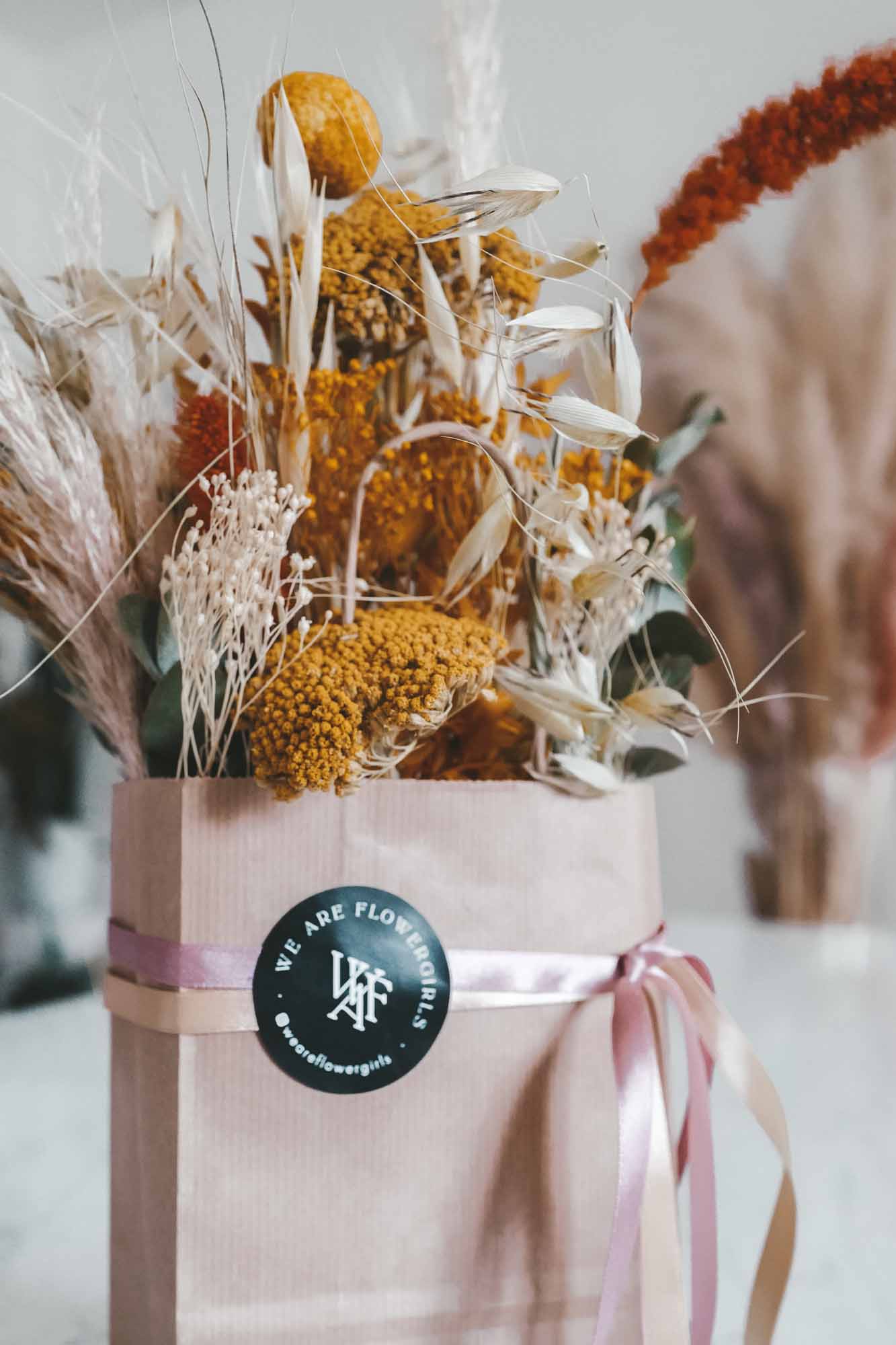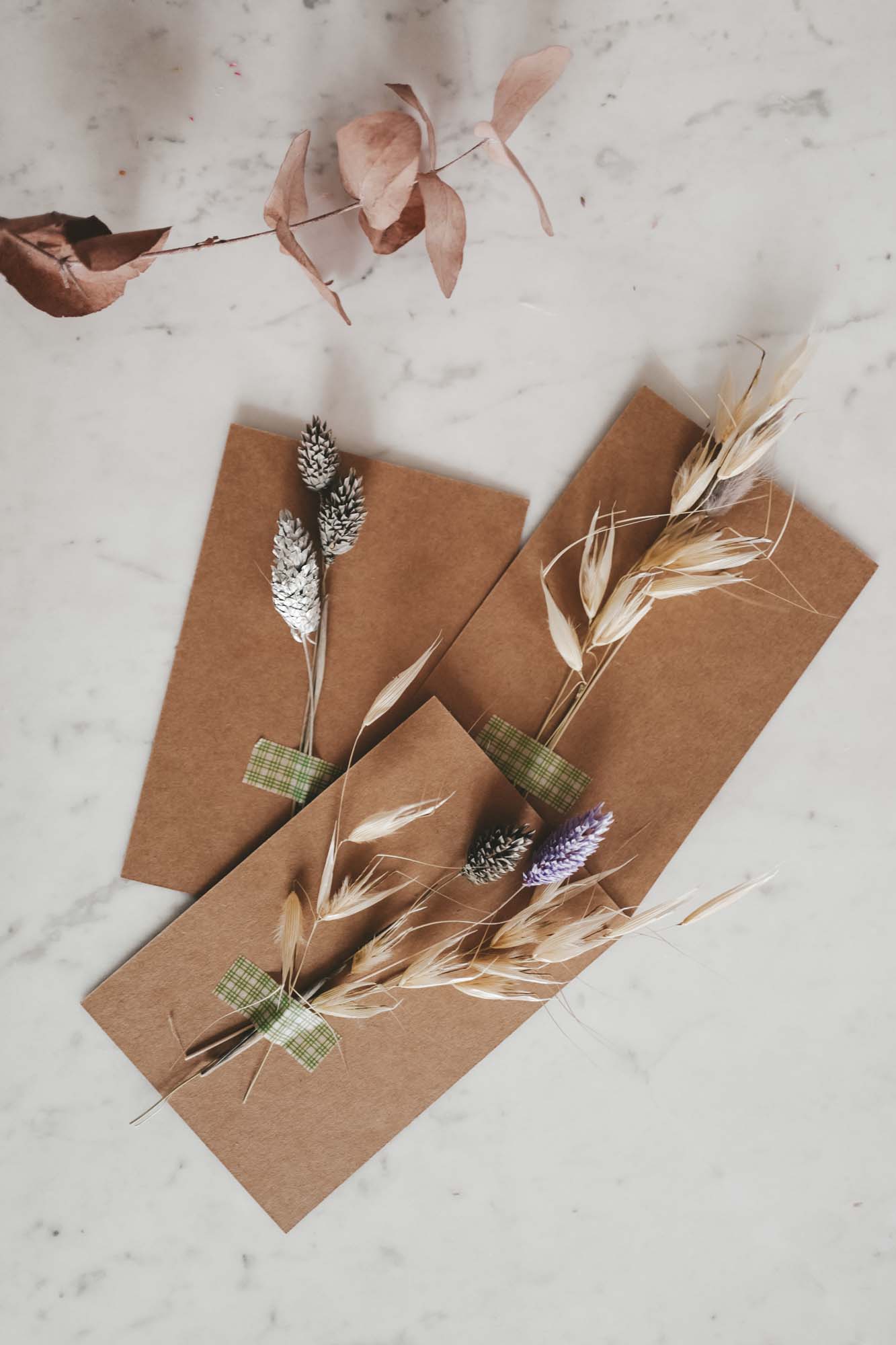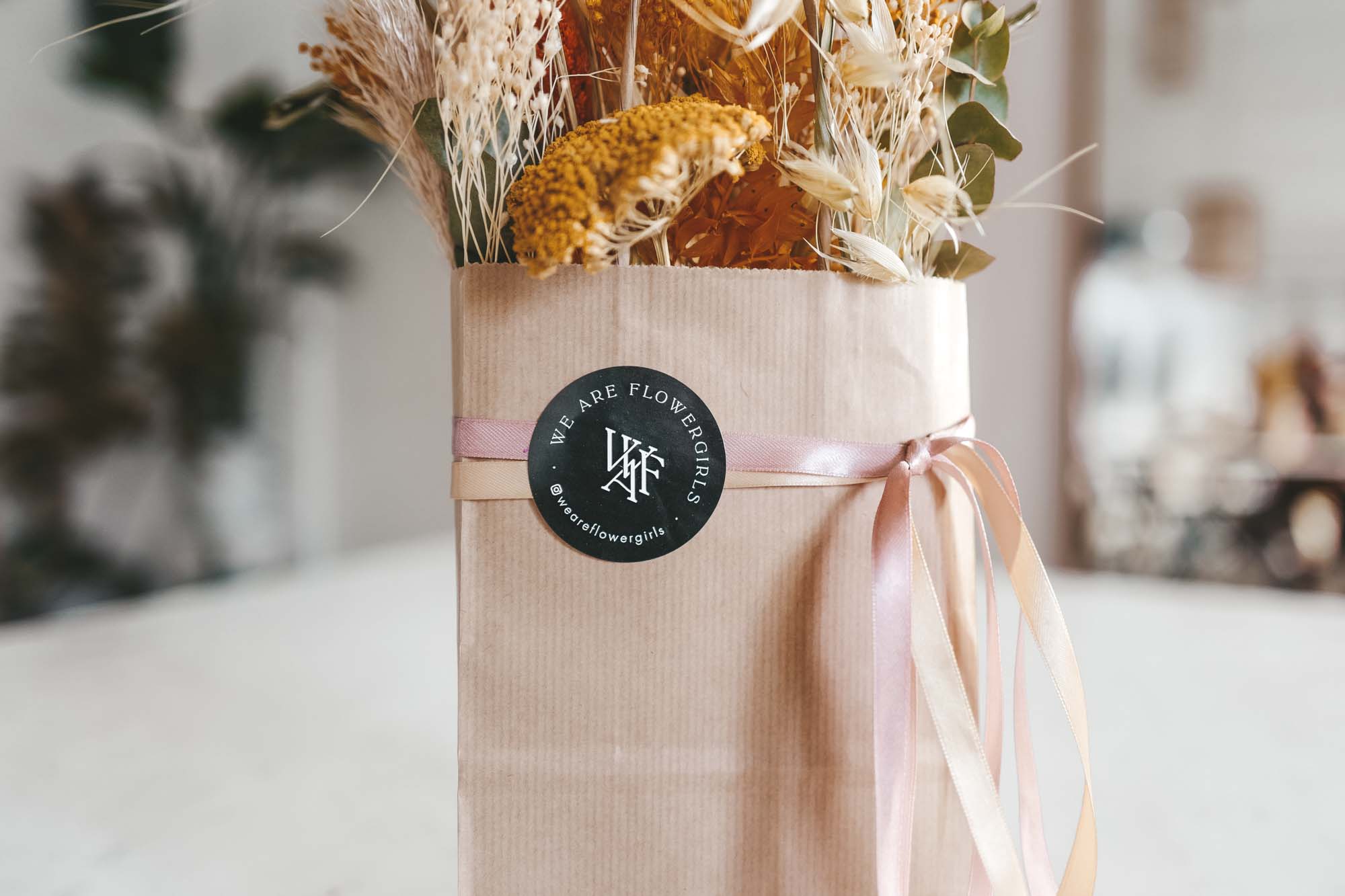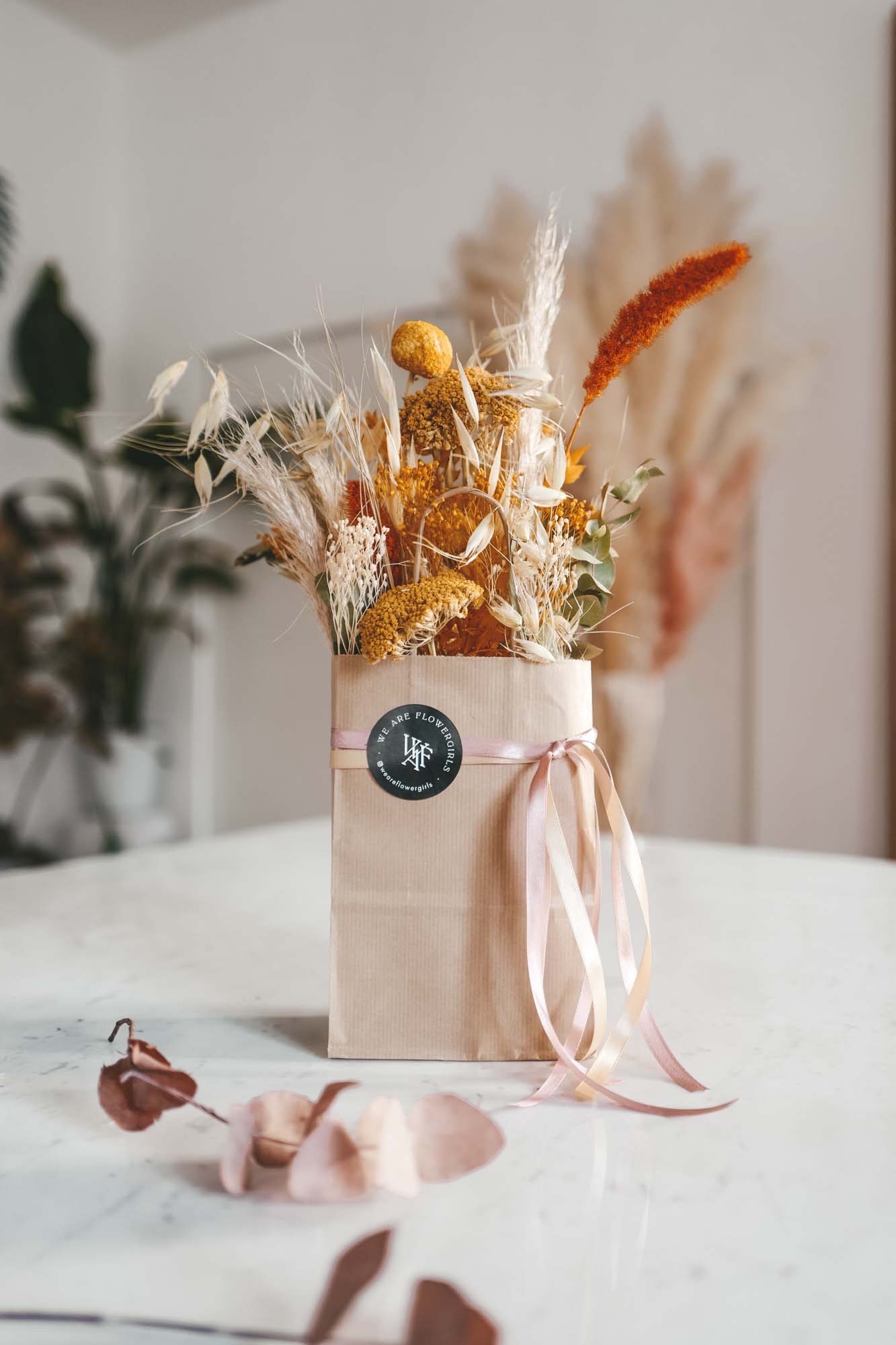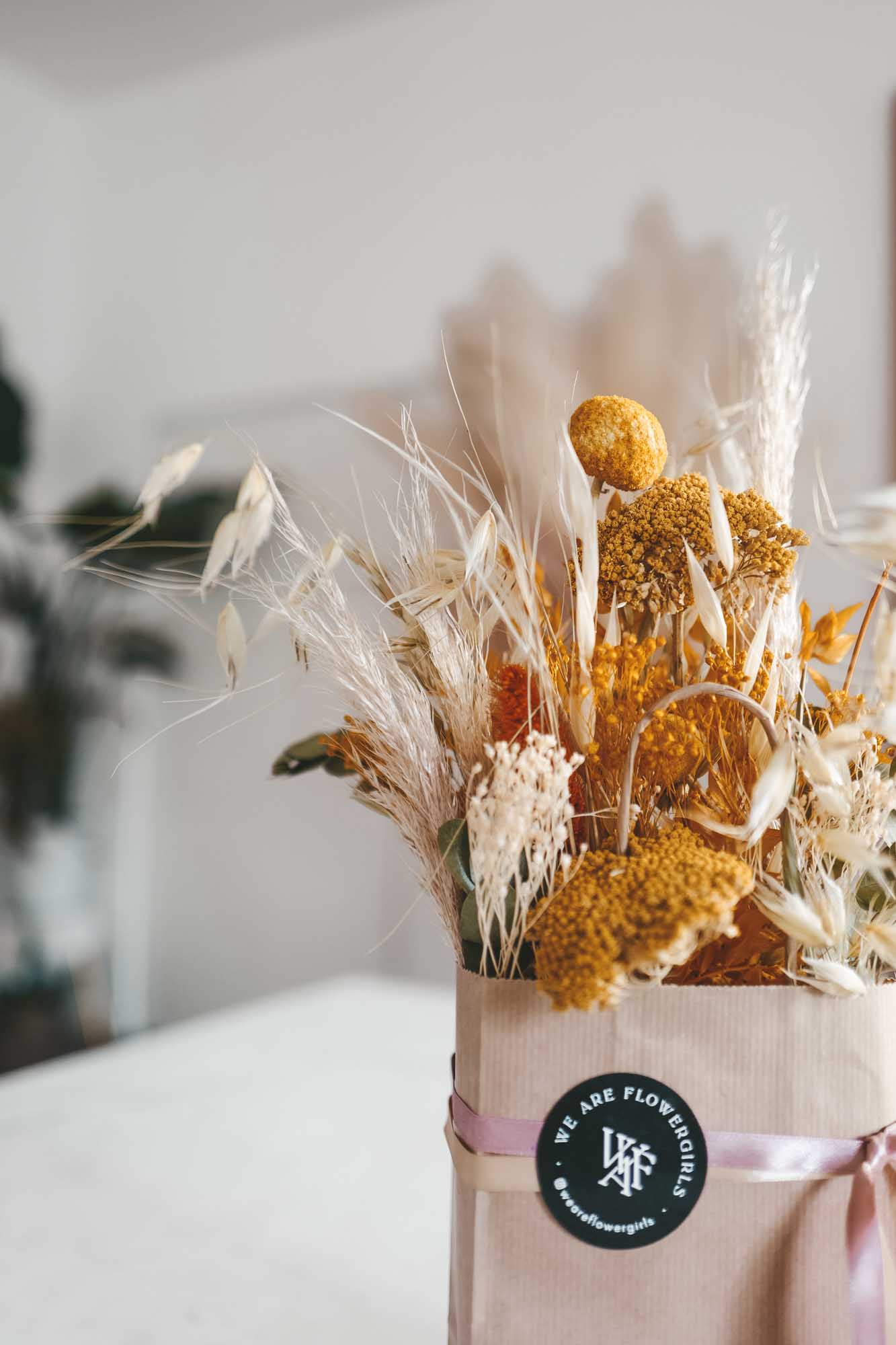 Everlasting Dried Flower Bag
Yellow Edition
Dried Flower Bags for eternity. The perfect room decoration for flower lovers or gift for loved ones.
The Valentines Day Paper Bag Collection is handmade from preserved and dried flowers and grasses in the Flowergirls Atelier in Vienna. This ensures that the bags, like love, will not perish and can bloom every year.
PS: Every Blooming Bag comes with a handmade flower card to give away for FREE.
Handmade with LOVE in Vienna:
Our Dried Flower Bags are the perfect birthday gift, Valentine's Day gift or home decoration for your own home or events. Our flower boxes are made by us from high quality dried and preserved Dried Flowers and will last a lifetime. They are the easiest decoration for your home and a wonderful gift, if it should be a little bit different than a classic bouquet.
We are happy to make combinations of your choice. Feel free to write us an email about it.
Order options:
1. Complete flowerbag ready to give away.
2. We send your flowerbag as a DIY package. You will receive the recycled paper bag filled with a dry sponge and the dried flowers in a box to put on yourself. The staking is very simple. Work your way from back to front and for detailed instructions check us out on Instagram.
Included are the ribbons, a Dried Flower card, and the paper bag with Dried Flowers.
Available in 3 sizes:
Small: 14 x 8 x 21 cm
Medium: 18 x 8 x 22 cm
Large: 22 x 10 x 31 cm
Product Details
Small: 14 x 8 x 21 cm
Medium: 18 x 8 x 22 cm
Large: 22 x 10 x 31 cm
White, Green, Cream, Pink, Yellow, Purple
- high quality dried and preserved flowers and grasses
- recycled paper bag
- do not place in sunlight for long periods
- protect from moisture
- Protect from fire
Additional Infos
Shipping
Standard Shipping
Delivery


| | |
| --- | --- |
| AUSTRIA: | 1-2 business days |
| GERMANY: | 2-4 business days |
| EU: | 3-10 business days |
| WELTWEIT: | 10-30business days |

Shipment with DPD
"We Are Flowergirls" ships via DPD with a tracking code. You will get access to the tracking via email as soon as your order is on its way.
Returns
14-day return policy
"We Are Flowergirls" has a 14-day money-back guarantee on your webshop order (excluded products, see below). Please return your product in the original packaging with tracking within 14 days from receipt of the goods (validity is determined by the postmark/shipping confirmation of the return).
After the expired period of 14 days, we can no longer take back products!
Return shipping costs
The return shipping costs must be paid by the customer. We recommend a return shipment with tracking - as we can only refund received goods.
Defective products / shipping damage
All products undergo a double quality control before we ship them. If the product arrives with shipping damage, we will of course replace it. In this case, please send us an email with photos of the damage via hello@weareflowergirls.com
Detailed terms for returns:
Swimwear, Bridsmaids-Dresses & Clothing
Swimsuits & Bikinis must be unworn, unwashed & incl. all labels, otherwise we cannot refund.
Workshops
If you miss your workshop, we cannot refund the cost. If you do not have time on the workshop date, please let us know at least three days in advance so we can reschedule.
Custom-made products (made-to-order products)
Custom-made products are not refundable.
General Contact:
Questions to the studio:
Want to know more about our designs, collections or a specific product? Or talk about an idea made especially for you?

Atelier Phone: +43 677 63250178
WhatsApp: +43 677 63250178
Atelier: hello@weareflowergirls.com

Bridal & Wedding Inquiries
Send us an email if you have special questions about the bride's wishes, the maids of honor or generally about your BFF's wedding.