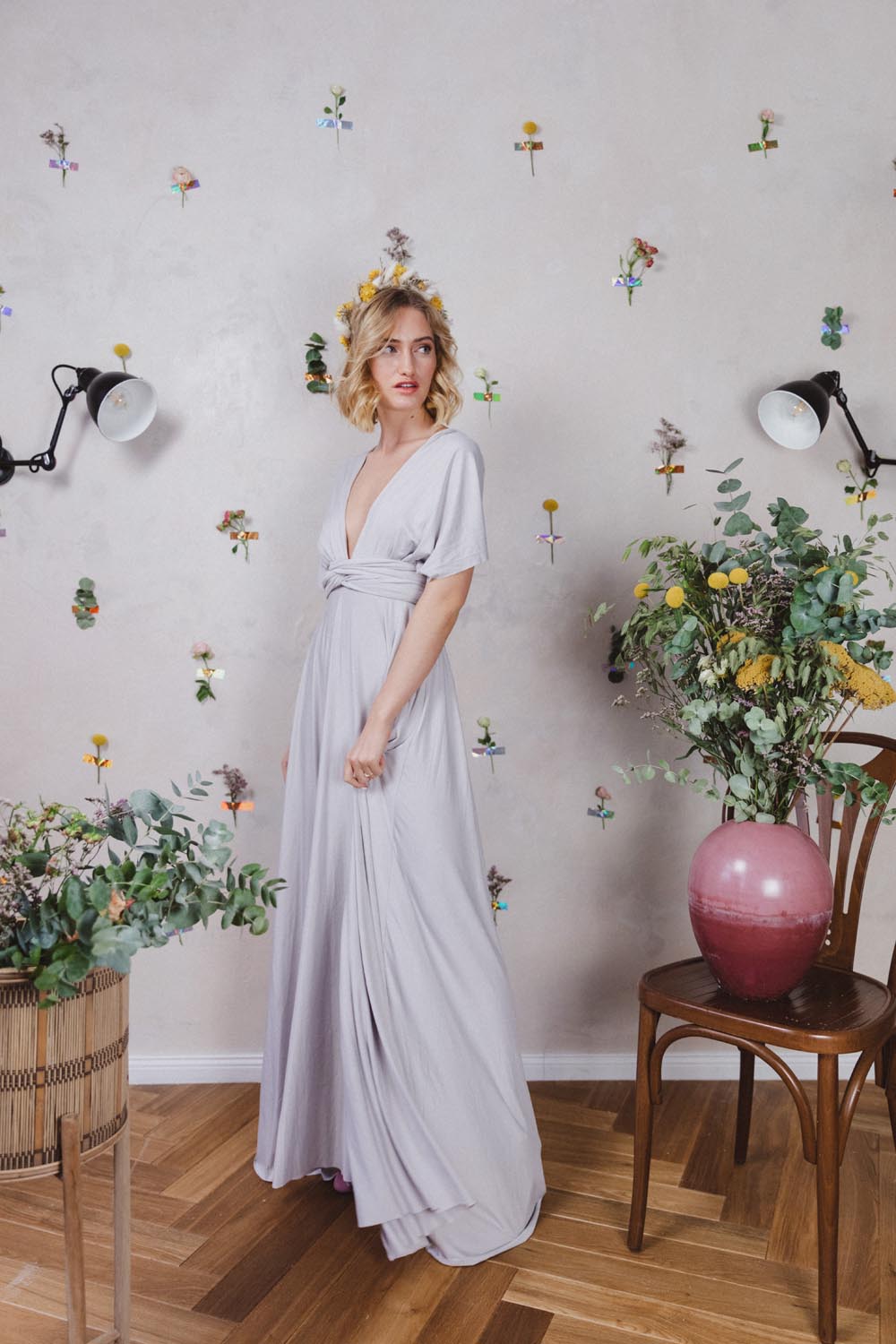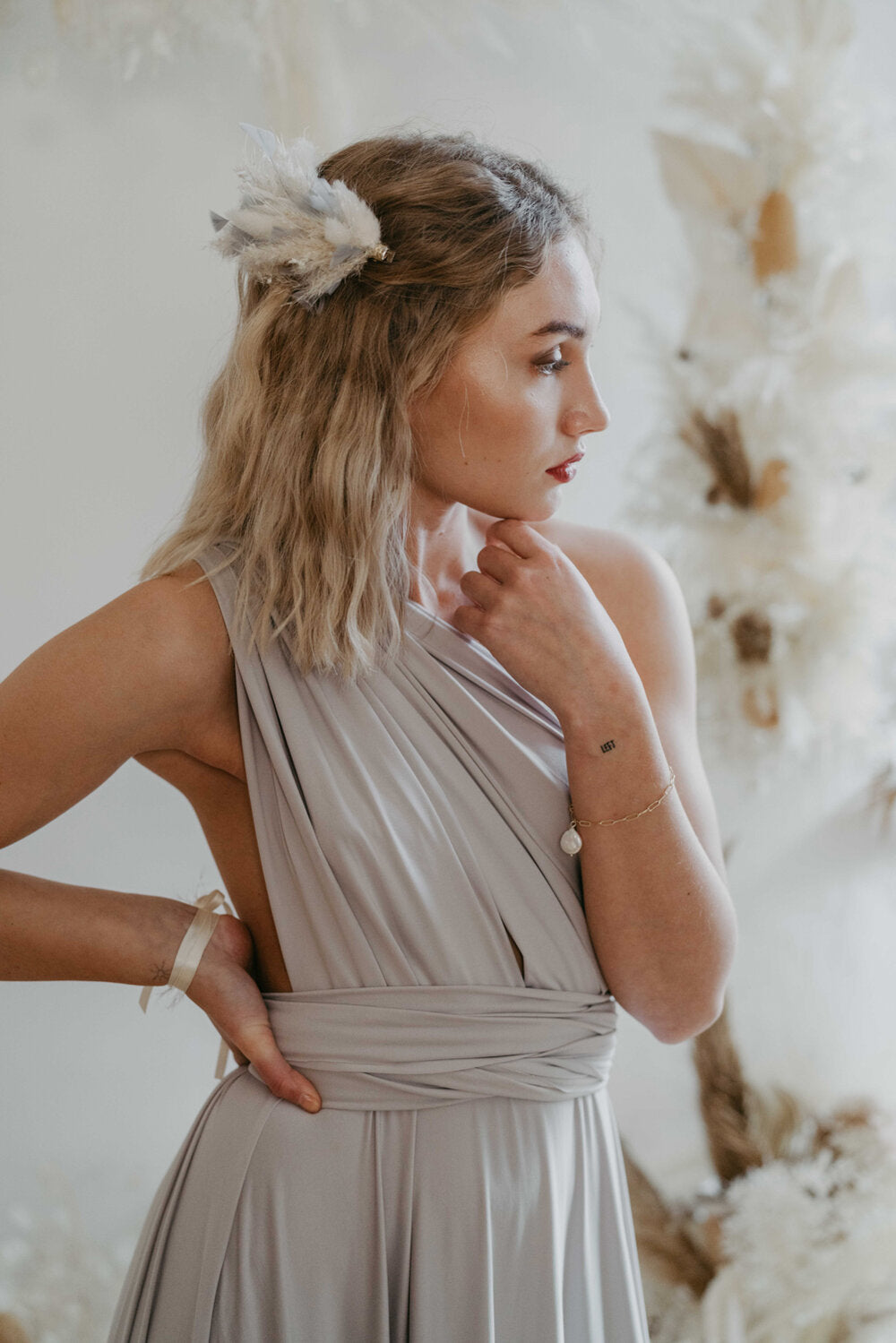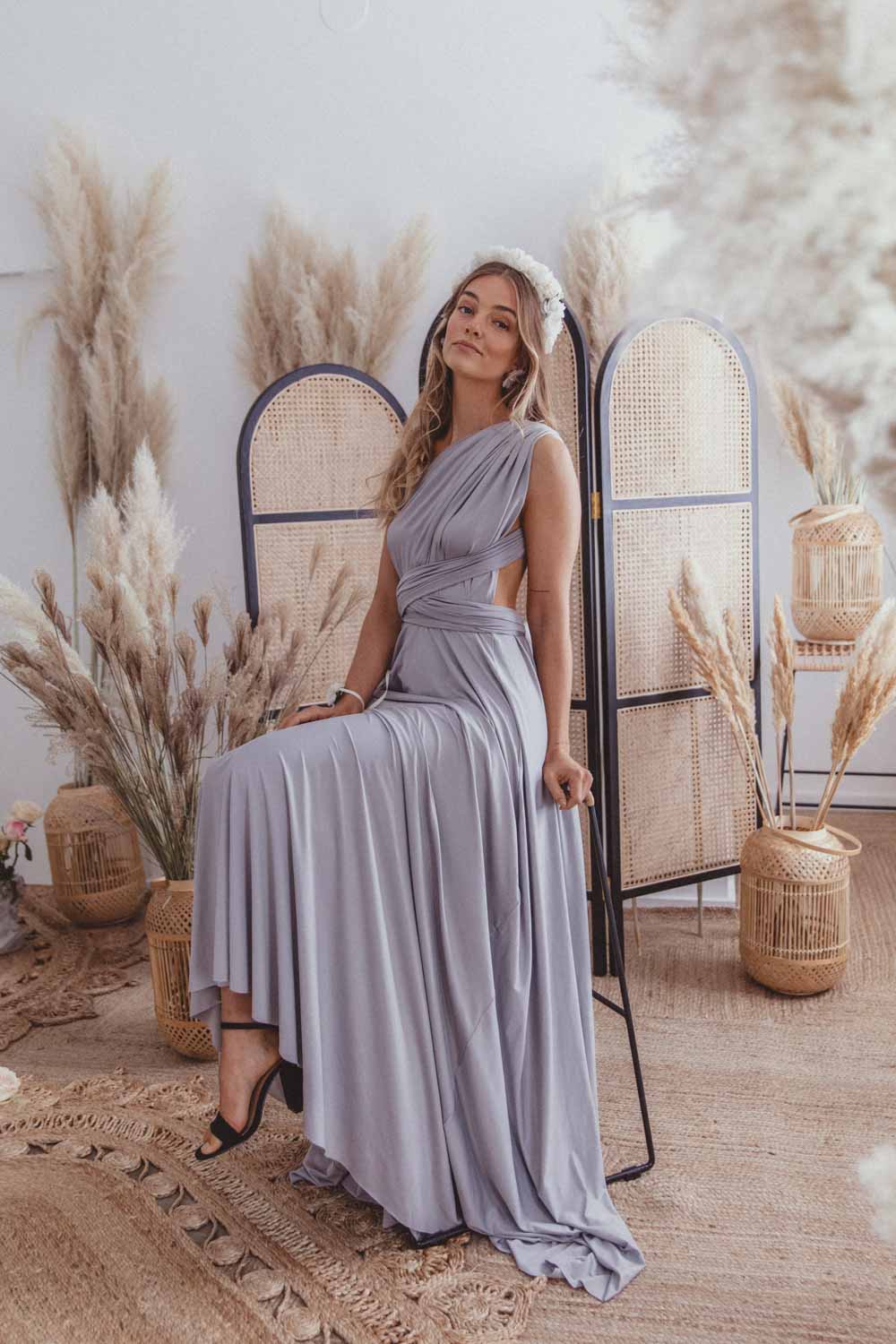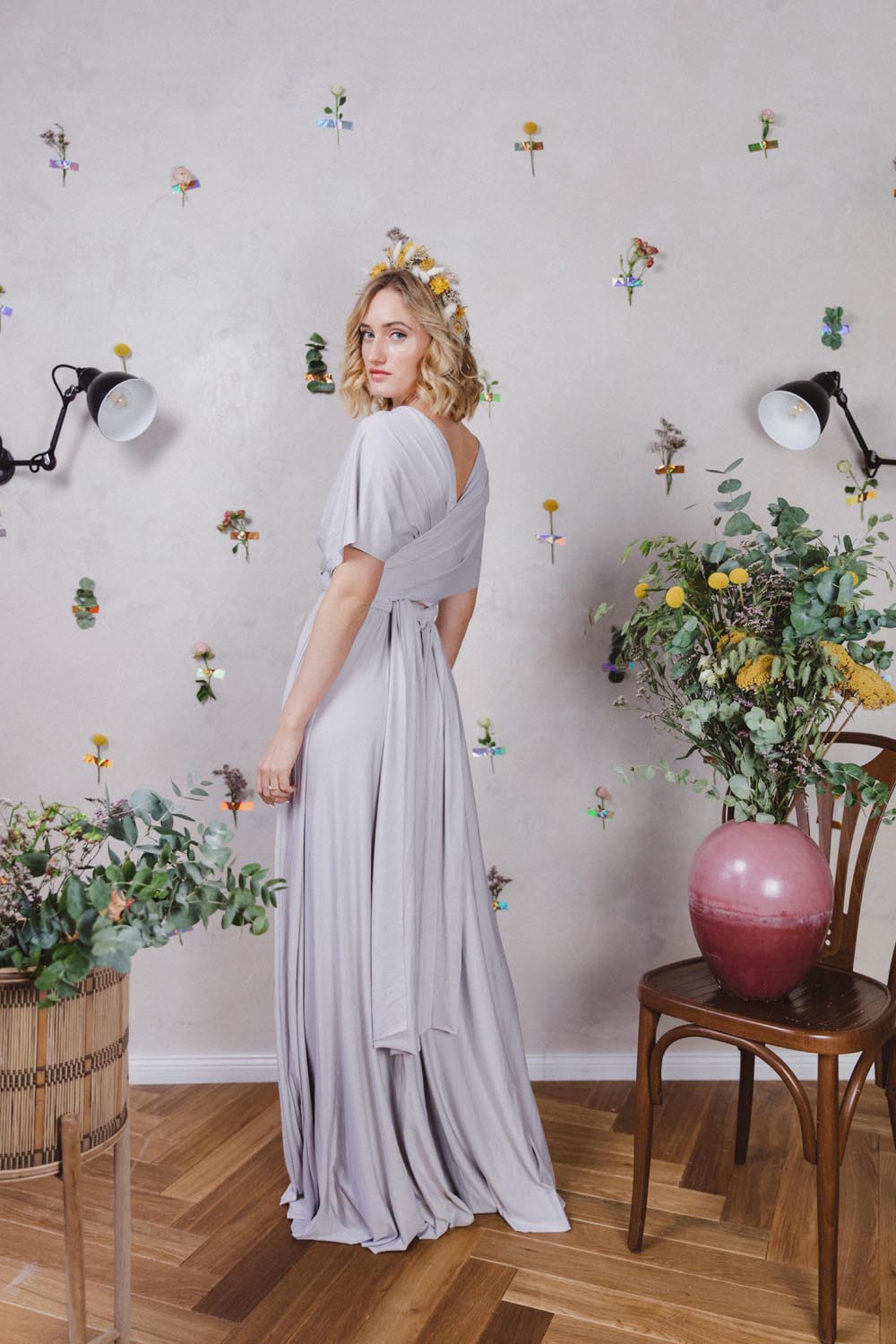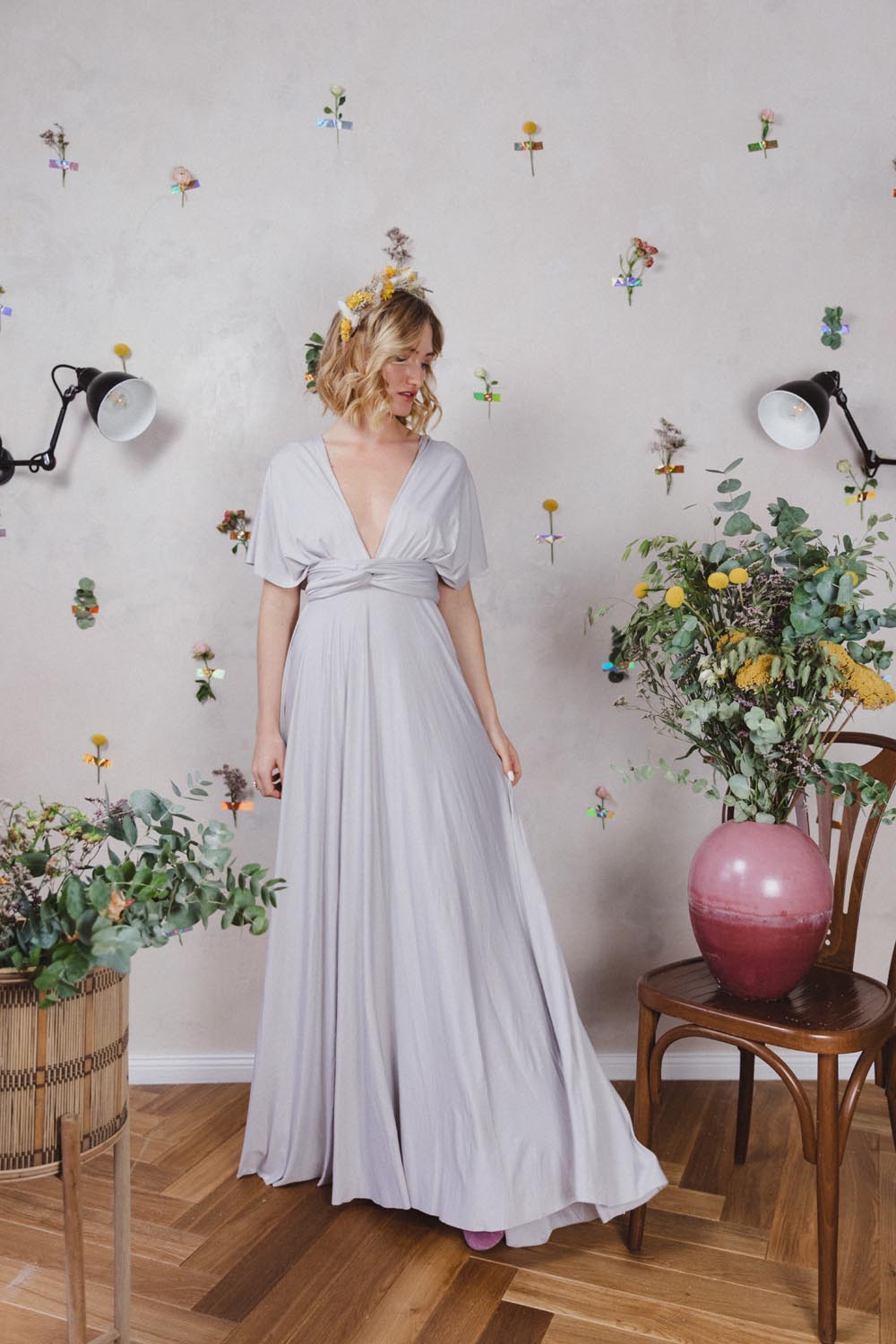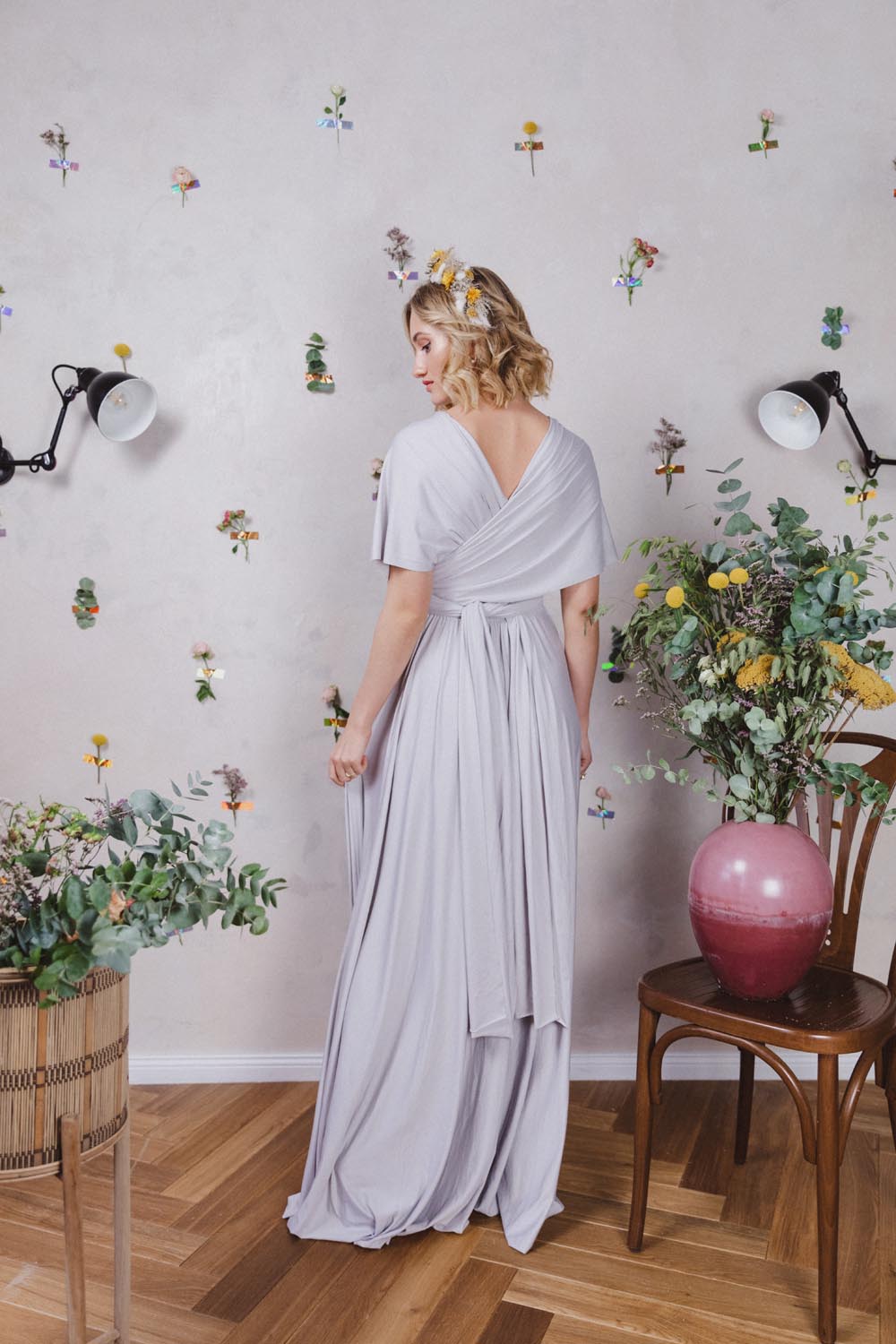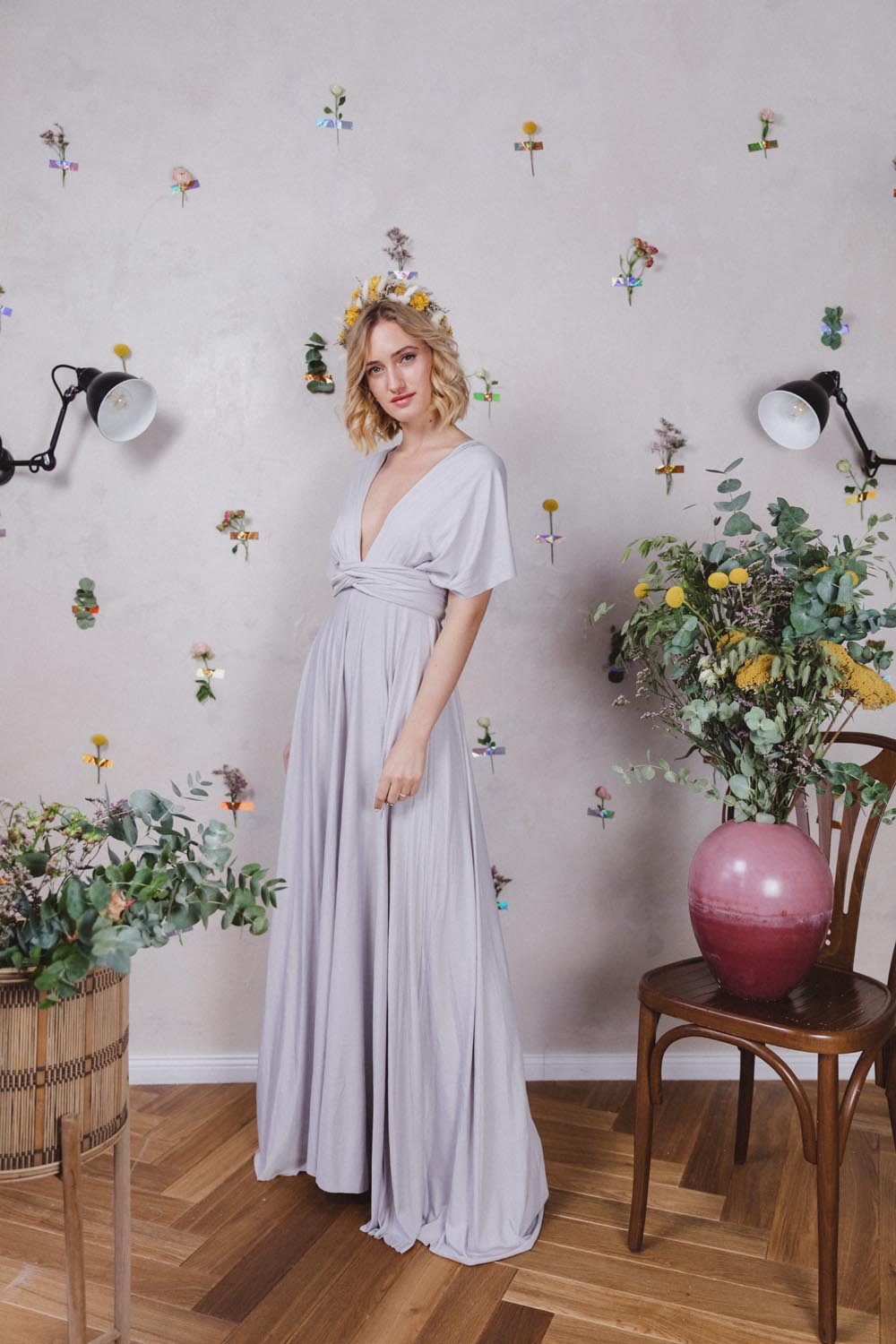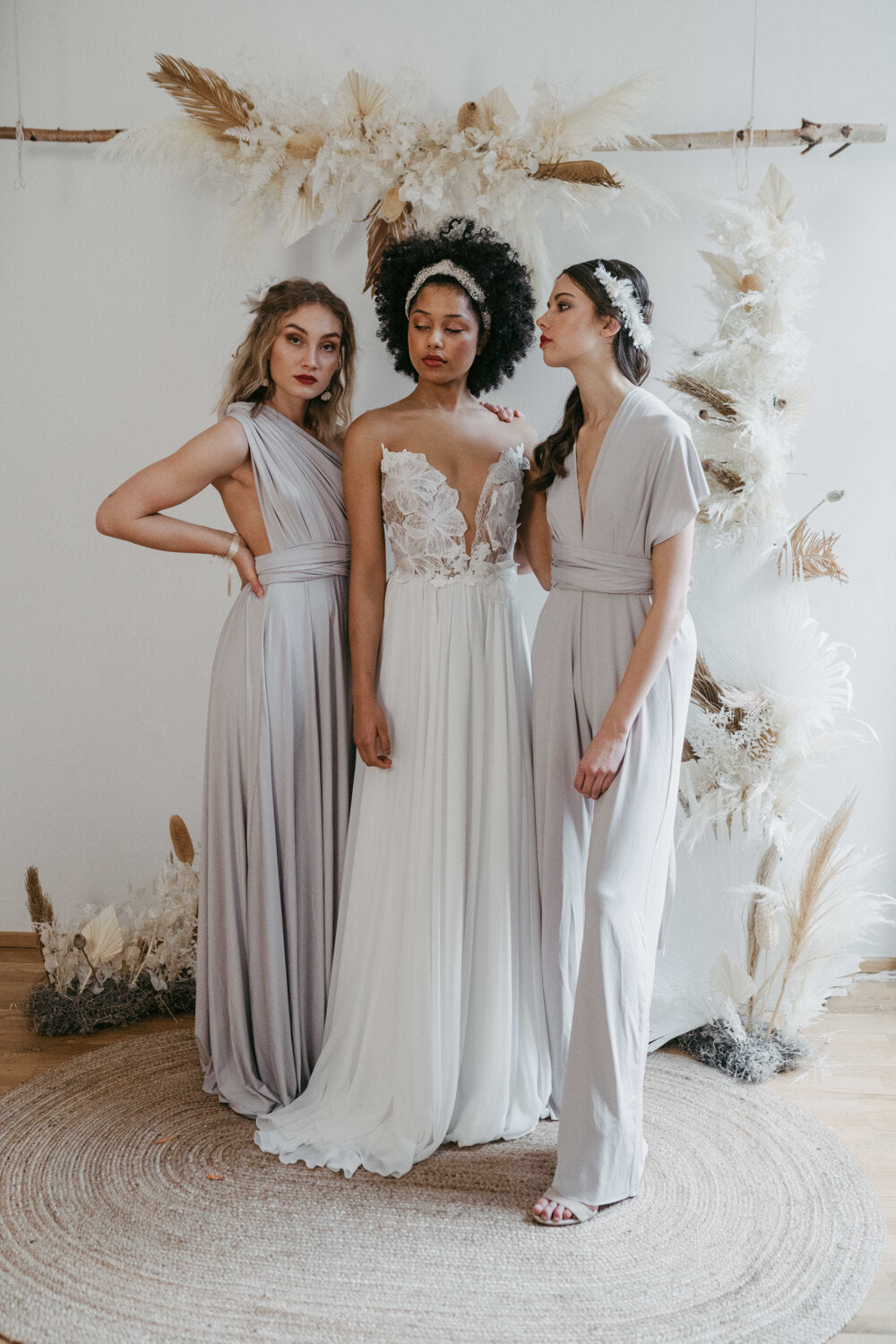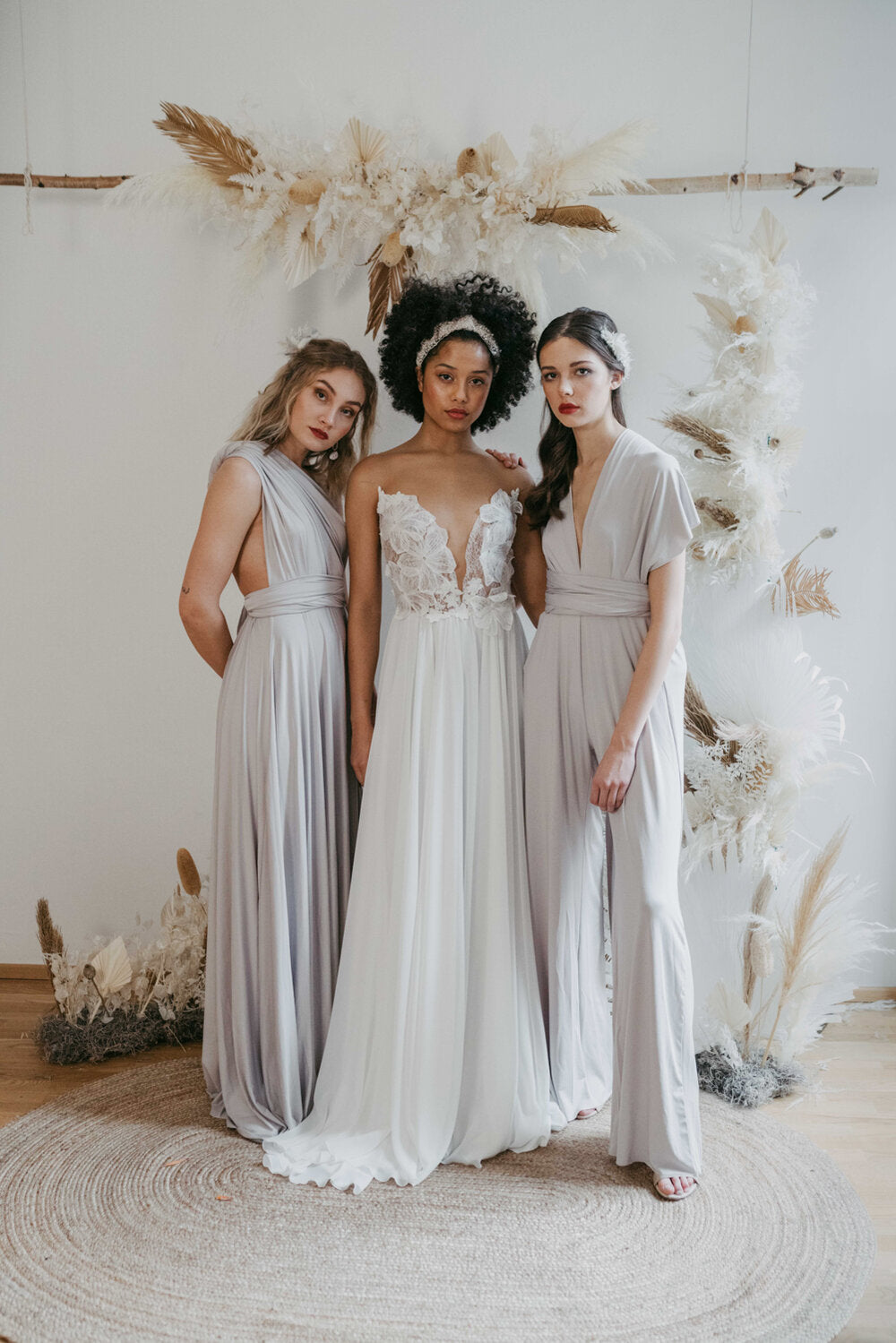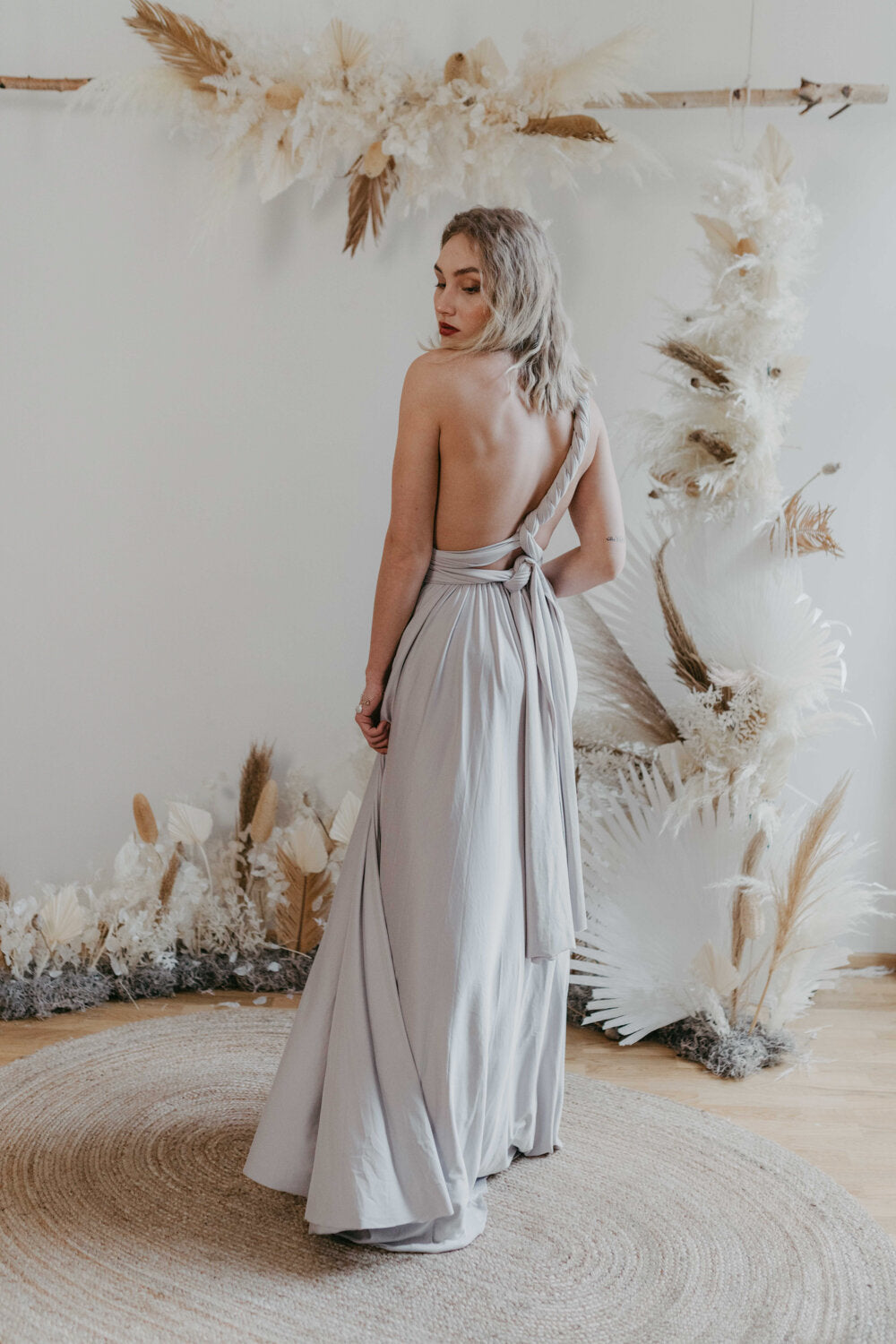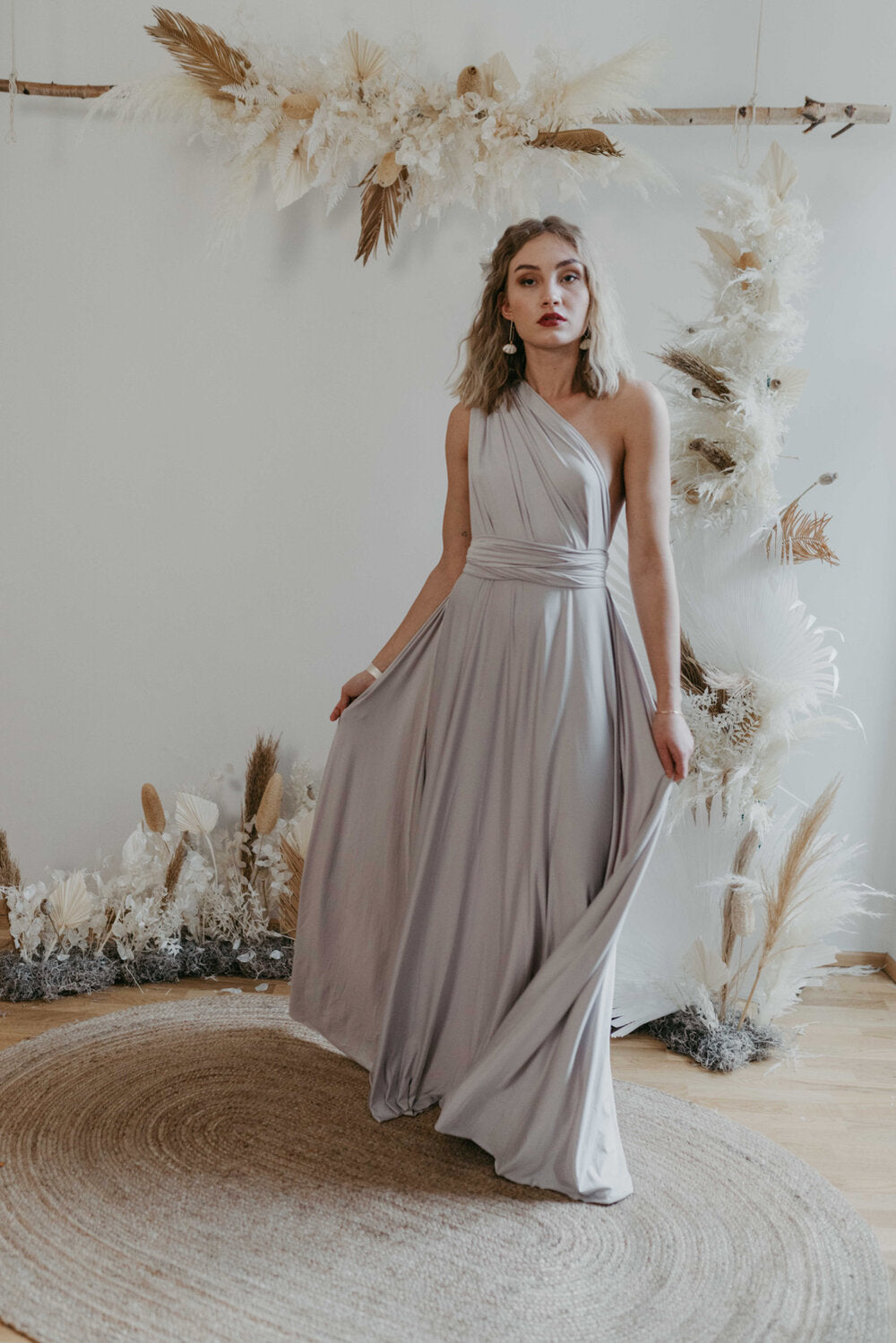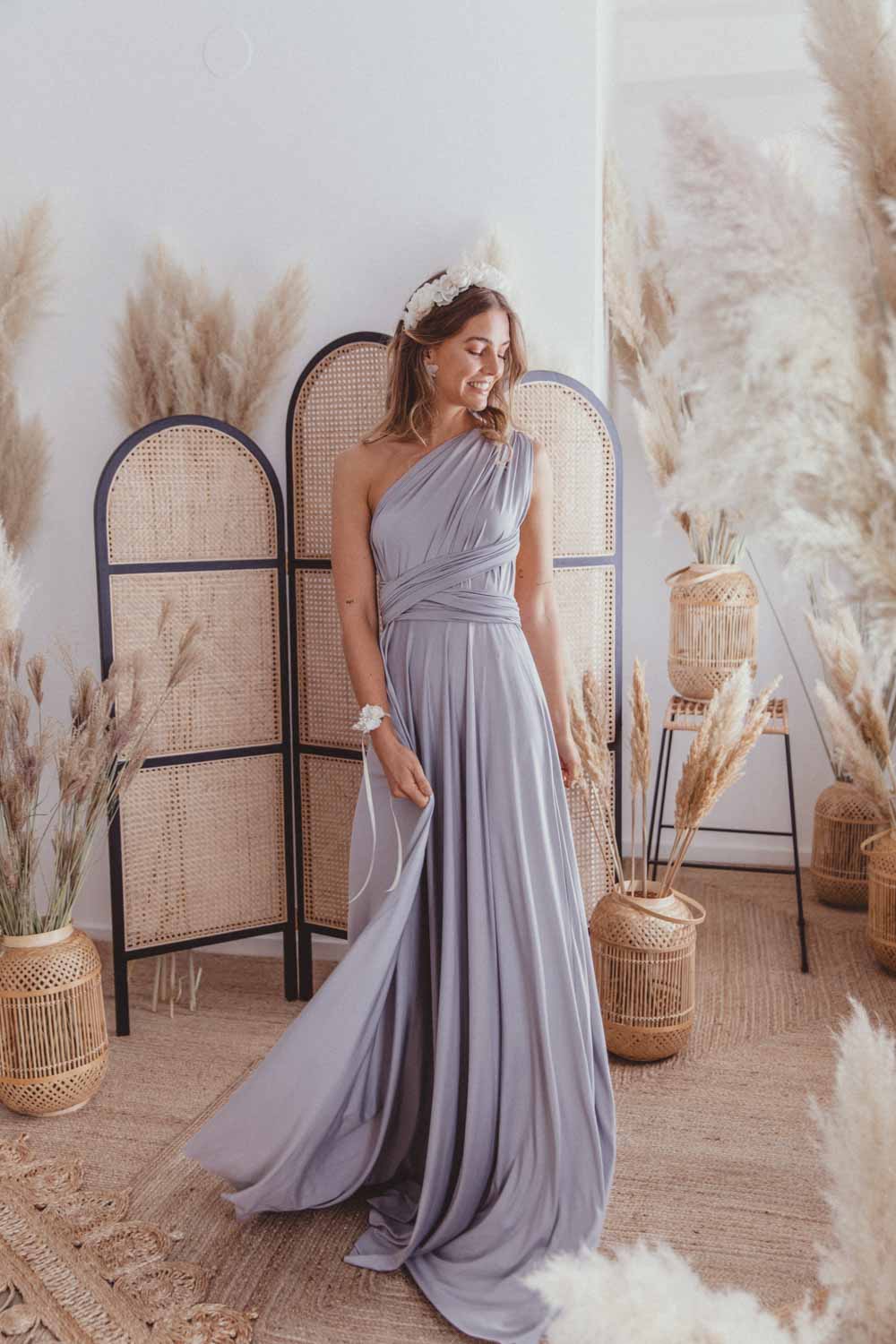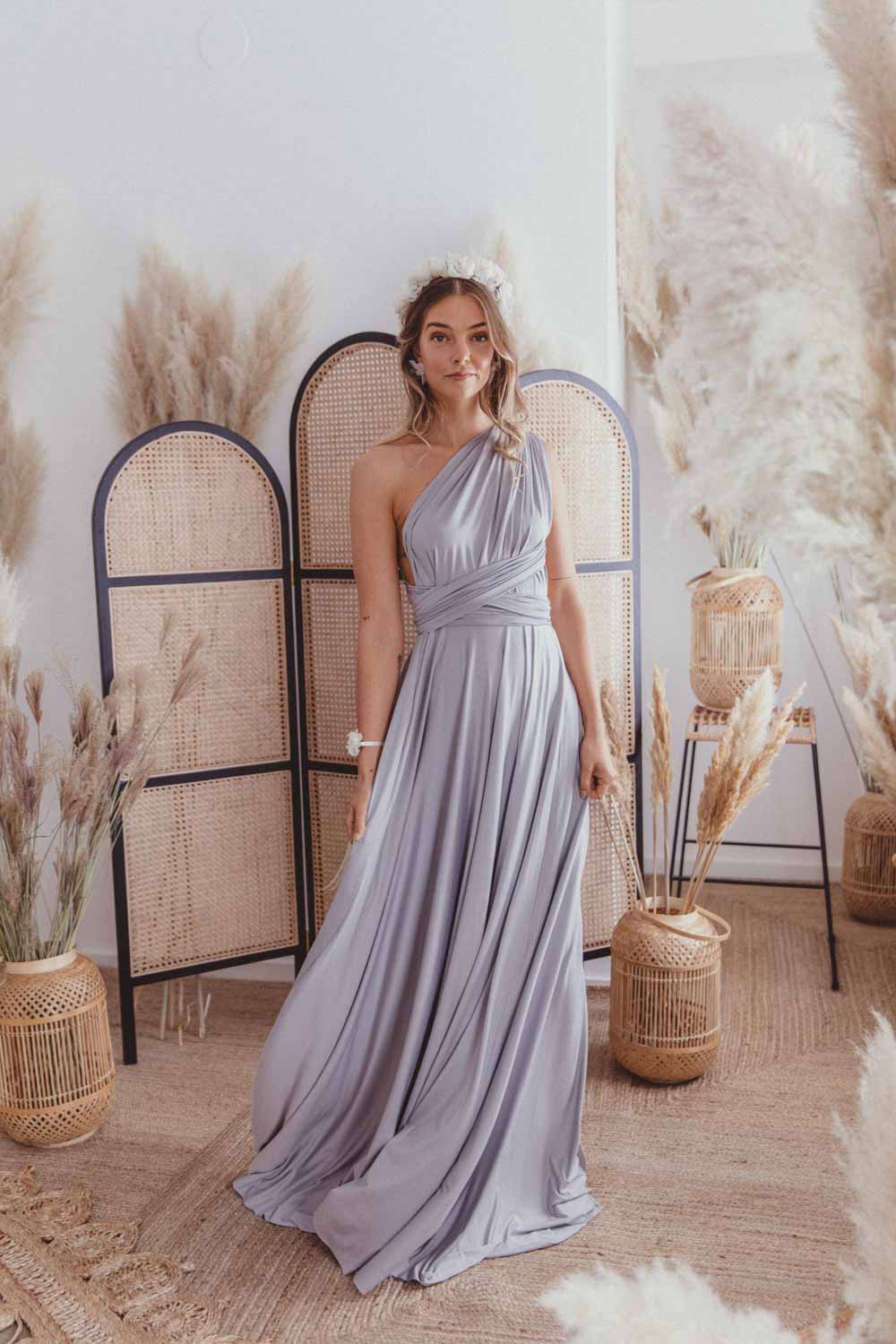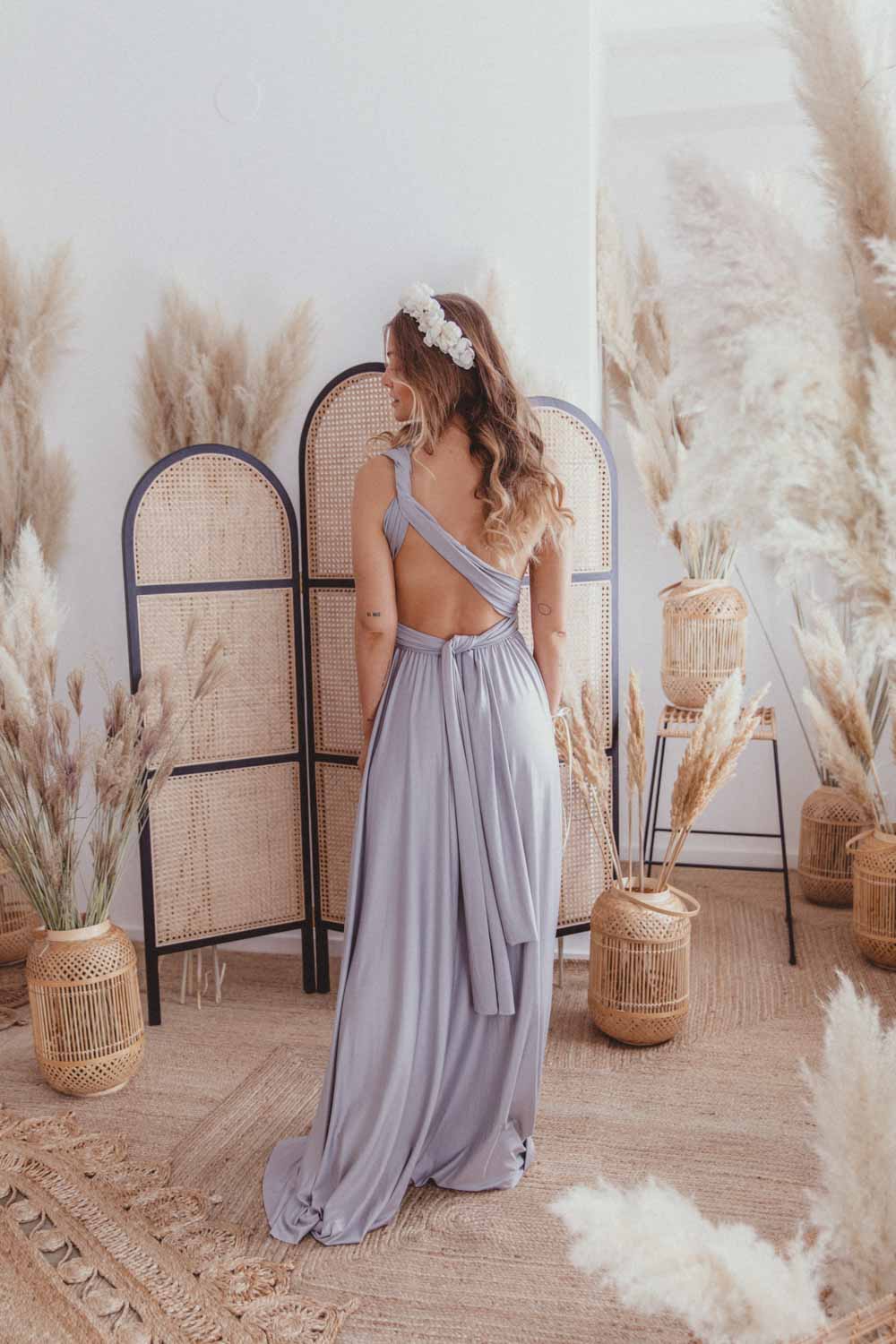 Bridesmaids
Dress Silver - Long
Ein Kleid - hunderte Trage-Varianten, passend für jede Figur und Konfektionsgröße.

Fair produziert in einer kleinen Familien-Näherei in Thailand.

Unsere Convertible Dresses sind ONESIZE und passen Dank der Gummizug-Taille und des weiten Rockteils jeder Figur und jeder Konfektionsgröße. Das Design unserer Wickelkleider passt Konfektionsgrößen von 32 bis 42. Die Länge des Rockes ist so lange gewählt, dass es Damen bis Körpergröße 1.90 tragen können. Sollte der Rock zu lang sein, kannst du ihn ganz einfach kürzen.

Das Design ist so simpel, die Möglichkeiten so vielseitig. Jedes Kleid besteht aus einem Rockteil, an welchem zwei lange Stoffbahnen genäht sind. Diese ergeben das wickelbare Oberteil. Das Kleid wird mit einem Bandeau in der passenden Farbe geliefert, welches du unter deinem Kleid als Top tragen kannst.

Die Wickelmöglichkeiten sind schier endlos.
Du kannst es schulterfrei, mit Trägern, mit Ärmeln, symmetrisch oder asymmetrisch, rückenfrei, rückenbedeckt oder halbbedeckt tragen.
All das und noch vieles mehr ist möglich mit ein und dem selben Wickelkleid. So kannst du es für jeden Anlass neu tragen.
Der super elastische Stoff ist ganz einfach zu wickeln, passt sich jeder Figur an, ist bügel- und knitterfrei und fühlt sich super weich auf der Haut an. Nach dem Tragen einfach in die Waschmaschine werfen, mit 30 Grad waschen, aufhängen und schon ist es wieder ready für den großen Auftritt.

Dein BRIDESMAIDS Dress: Die Wickelkleider von »We Are Flowergirls« sind das perfekte Kleid für Brautjungfern. Sie passen jeder Größe und Figur, die verschiedenen Farben passen perfekt zueinander und jede Brautjungfer kann das Kleid individuell wickeln und so einen ganz eigenen Look kreieren.
Product Details
Dank der Gummizug-Taille und Wickelärmel, passt sich das Kleid der Trägerin an.
- Rocklänge: 132cm
- Taille: 55cm-86cm
Silber
Für den perfekten Wickel-Stretch verwenden wir:
90% Polyester
10% Spandex
Genäht in einer kleinen Familien-Näherei mit fairen Löhnen in Thailand.

Waschen mit 30 Grad in der Waschmaschine
Bügelfrei
Additional Infos
Shipping
Standard Shipping
Delivery


| | |
| --- | --- |
| AUSTRIA: | 1-2 business days |
| GERMANY: | 2-4 business days |
| EU: | 3-10 business days |
| WELTWEIT: | 10-30business days |

Shipment with DPD
"We Are Flowergirls" ships via DPD with a tracking code. You will get access to the tracking via email as soon as your order is on its way.
Returns
14-day return policy
"We Are Flowergirls" has a 14-day money-back guarantee on your webshop order (excluded products, see below). Please return your product in the original packaging with tracking within 14 days from receipt of the goods (validity is determined by the postmark/shipping confirmation of the return).
After the expired period of 14 days, we can no longer take back products!
Return shipping costs
The return shipping costs must be paid by the customer. We recommend a return shipment with tracking - as we can only refund received goods.
Defective products / shipping damage
All products undergo a double quality control before we ship them. If the product arrives with shipping damage, we will of course replace it. In this case, please send us an email with photos of the damage via hello@weareflowergirls.com
Detailed terms for returns:
Swimwear, Bridsmaids-Dresses & Clothing
Swimsuits & Bikinis must be unworn, unwashed & incl. all labels, otherwise we cannot refund.
Workshops
If you miss your workshop, we cannot refund the cost. If you do not have time on the workshop date, please let us know at least three days in advance so we can reschedule.
Custom-made products (made-to-order products)
Custom-made products are not refundable.
General Contact:
Questions to the studio:
Want to know more about our designs, collections or a specific product? Or talk about an idea made especially for you?

Atelier Phone: +43 677 63250178
WhatsApp: +43 677 63250178
Atelier: hello@weareflowergirls.com

Bridal & Wedding Inquiries
Send us an email if you have special questions about the bride's wishes, the maids of honor or generally about your BFF's wedding.