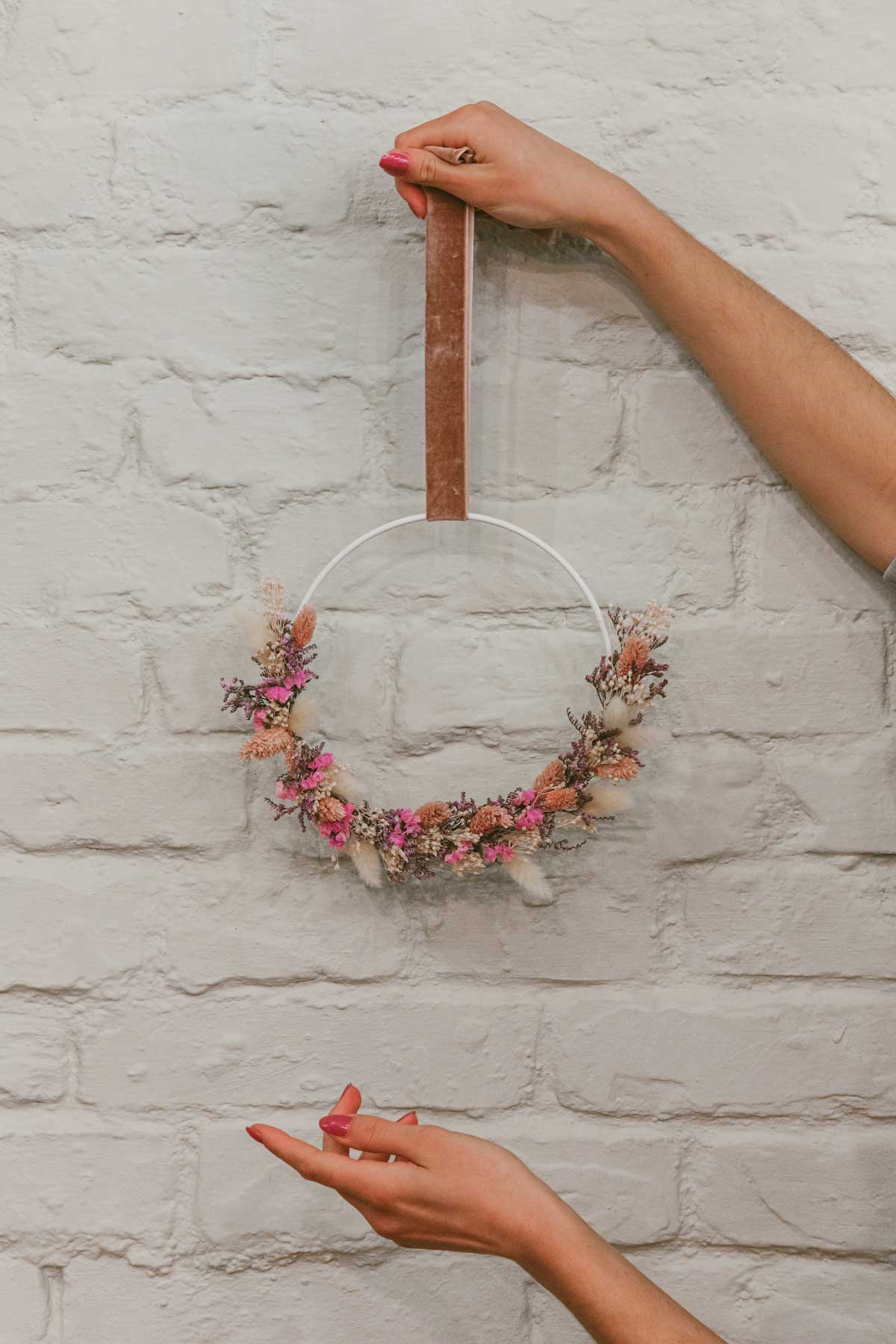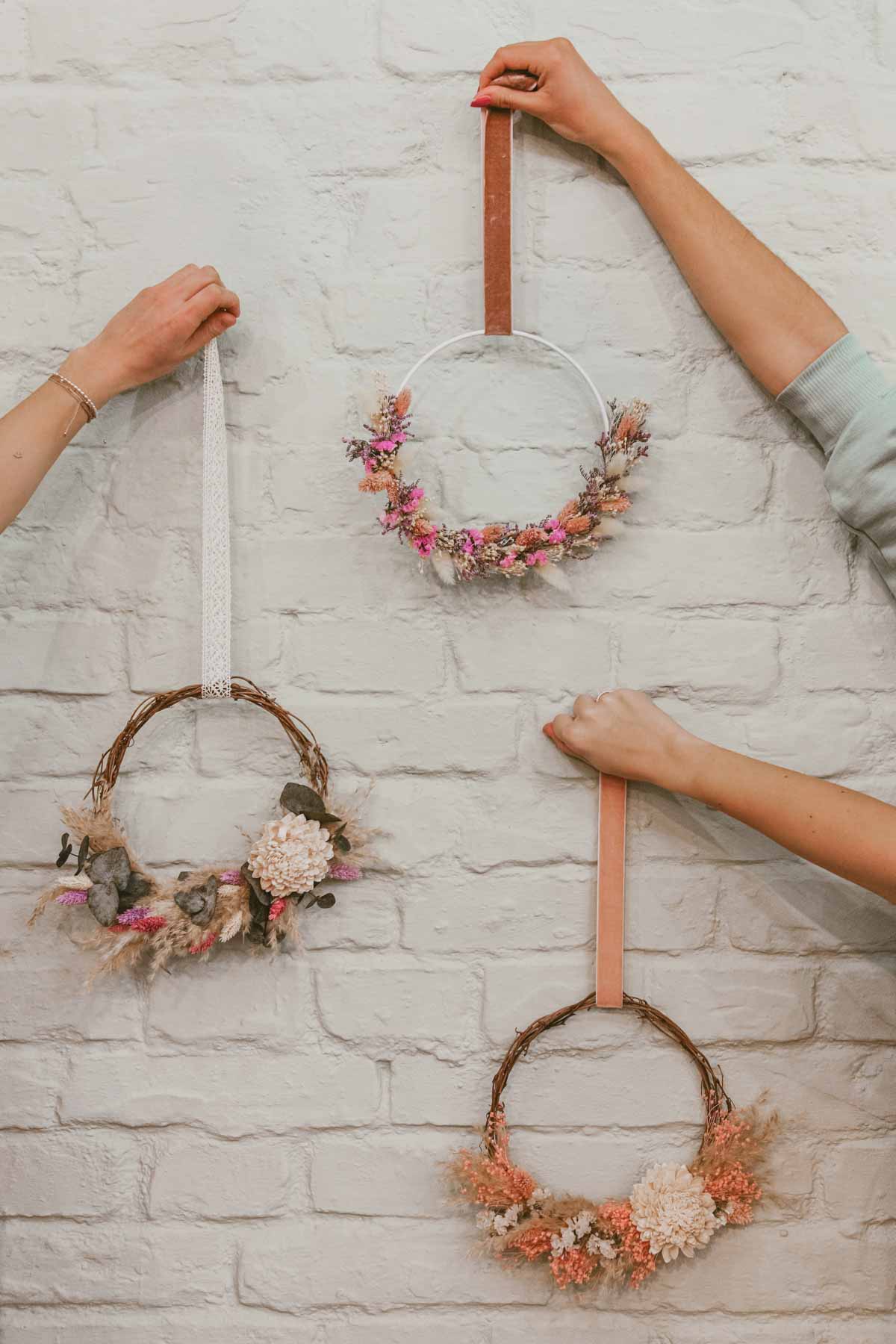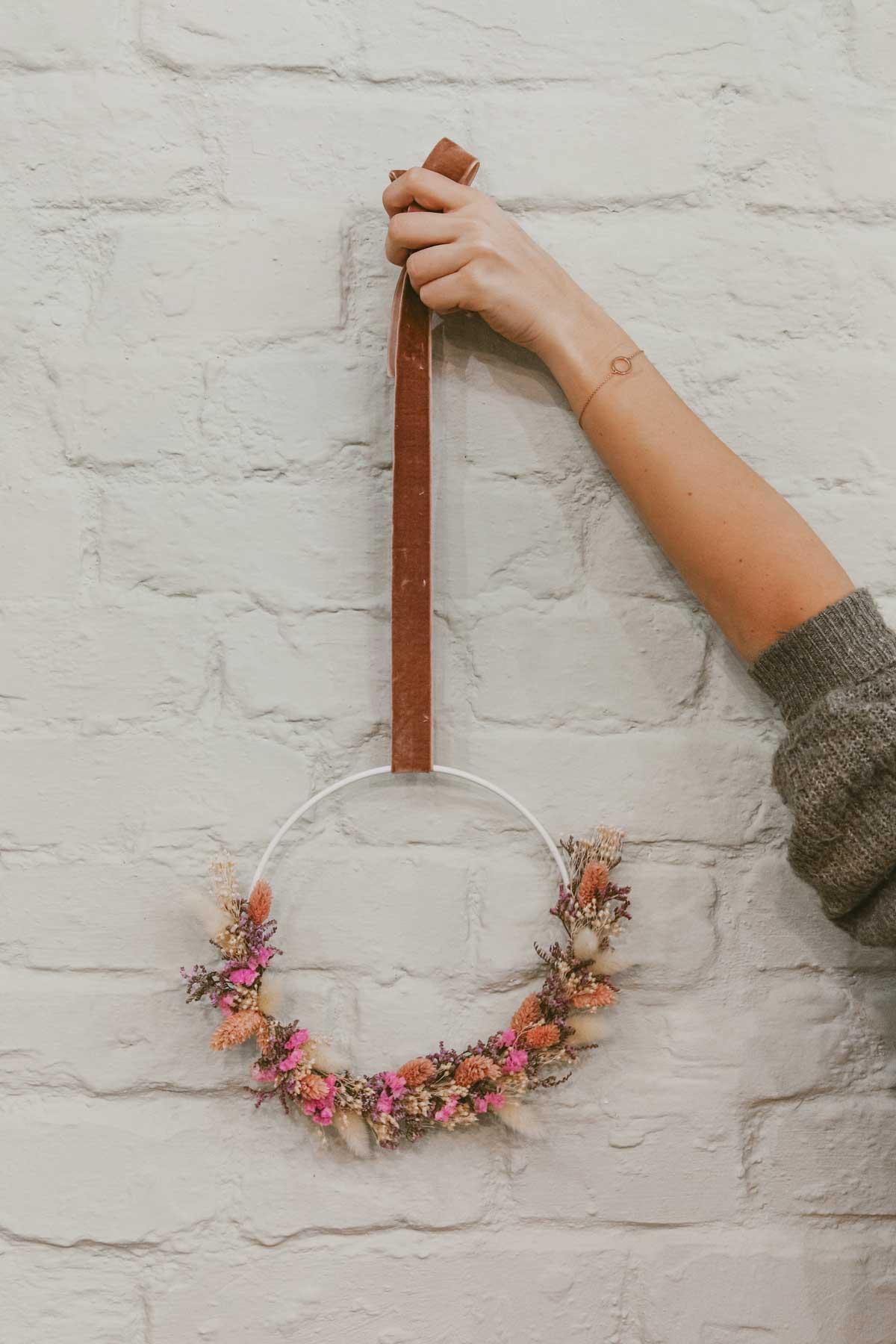 Handmade Dried Flower Hoop
Carine
Your Dried Flower decoration for eternity! Turn your home into a blooming spring paradise.
High-quality dried and preserved flowers, grasses and leaves form the Dried Flower Wreaths of the Viennese label "We Are Flowergirls". The hand-tied wreaths last a lifetime thanks to the precise tying method and high-quality materials. And they do so without any watering or care. They lose neither color nor shape and thus accompany you through many seasons. Whether as a door wreath, wall wreath or as an eye-catching floral decoration for the table.
The perfect gift idea for interior lovers. Or also a great eye-catcher for a special wedding decoration.
Wonderfully changeable:
You can change the look of your Dried Flower Wreath in a snap each season. Just pick up ribbons at your local fabric store or decor retailer and keep trying new colors and ribbon textures. You can easily tie the ribbons into the wreath or decorate with a stitch.
Dried flowers as Christmas decoration? No problem!
Simply turn the "We Are Flowergirls" wreath into an Advent wreath. Tie gold or red ribbons on the wreath, add 4 candle plates and your Dried Flower Advent wreath will never dry out. Get creative and maybe decorate the wreath with beads, baubles or shells. Anything you can think of is allowed.
Designed by "We Are Flowergirls" in Vienna. Produced in Turkey.
100% plastic free.
Product Details
Outer diameter: 27 cm
Beige, Creme, Weiß, Pfirsich, Rosa
- Dried and presered flowers and leaves
- Samtband
- Metallring
- keine Kunstblumen
- protect from moisture
- protect from fire

Additional Infos
Shipping
Standard Shipping
Delivery


| | |
| --- | --- |
| AUSTRIA: | 1-2 business days |
| GERMANY: | 2-4 business days |
| EU: | 3-10 business days |
| WELTWEIT: | 10-30business days |

Shipment with DPD
"We Are Flowergirls" ships via DPD with a tracking code. You will get access to the tracking via email as soon as your order is on its way.
Returns
14-day return policy
"We Are Flowergirls" has a 14-day money-back guarantee on your webshop order (excluded products, see below). Please return your product in the original packaging with tracking within 14 days from receipt of the goods (validity is determined by the postmark/shipping confirmation of the return).
After the expired period of 14 days, we can no longer take back products!
Return shipping costs
The return shipping costs must be paid by the customer. We recommend a return shipment with tracking - as we can only refund received goods.
Defective products / shipping damage
All products undergo a double quality control before we ship them. If the product arrives with shipping damage, we will of course replace it. In this case, please send us an email with photos of the damage via hello@weareflowergirls.com
Detailed terms for returns:
Swimwear, Bridsmaids-Dresses & Clothing
Swimsuits & Bikinis must be unworn, unwashed & incl. all labels, otherwise we cannot refund.
Workshops
If you miss your workshop, we cannot refund the cost. If you do not have time on the workshop date, please let us know at least three days in advance so we can reschedule.
Custom-made products (made-to-order products)
Custom-made products are not refundable.
General Contact:
Questions to the studio:
Want to know more about our designs, collections or a specific product? Or talk about an idea made especially for you?

Atelier Phone: +43 677 63250178
WhatsApp: +43 677 63250178
Atelier: hello@weareflowergirls.com

Bridal & Wedding Inquiries
Send us an email if you have special questions about the bride's wishes, the maids of honor or generally about your BFF's wedding.